Tuesday, February 4, 2014
In November, members of the student group Climate Justice League attended the Students for a Just and Stable Future conference and networking retreat in Worcester, MA. The weekend soon became more than we had ever expected, and we left with many new friends and resources to help our growing movement.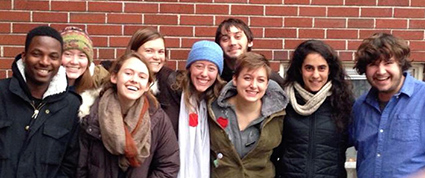 The Climate Justice League is an environmental group that strives to enact and educate environmental awareness on campus and beyond. Our goal is to fight climate injustice—the reality that those who are doing the least to cause the climate crisis are the ones who are being most affected by it. This means our work is not only about preserving and saving the natural environment, but also about acknowledging the social divide climate change creates.

Nine students from Hampshire's Climate Justice League brought exuberant spirits and ideas to the conference group, which consisted of many Massachusetts colleges including Brandeis University, Boston University, Mount Holyoke College, Tufts University, Western New England University, Boston College, Worcester Polytechnic Institute, and Harvard University.

Any holdings that Hampshire ever had in fossil fuels were negligible, and the College decided in 2009 to invest in support of its social values. But other schools are urging their trustees to consider fossil fuel divestment, so a large majority of the retreat was centered on divestment campaign strategies. We also spent a great deal of time learning about oppression and ethical concerns surrounding the climate movement, and partook in anti-oppression training.

Yet the main goal of our meeting together was much greater; it was time for Massachusetts college activists to join forces to fight for a cause much greater than us. Working in partnership with 350.org, an international nonprofit environmental organization founded by author Bill McKibben, the Students For a Just and Stable Future will organize an action this coming spring to raise climate awareness.

Since the retreat our friends from the group have organized successful large rallies centered on their own campus's divestment and fasting solidarity with Naderev Saño, the climate representative for the Philippines who declared his fasting at the national UN Climate Conference in Warsaw after Typhoon Haiyan until official action on climate change takes place. Almost 1,200 students from around the world followed him in a rolling fast demanding climate action, some of whom are members of Students for a Just and Stable Future that we have worked with and, now, closely befriended.

The weekend was an incredible way to meet like-minded people, network, and make each of our own movements that much stronger. We have stayed connected since this event and continually help each other with ideas for our separate campaigns and strategies. At the end of January we are scheduled to meet again for another weekend retreat, but this time more directed at planning our action in the spring, with many more Massachusetts colleges represented.

A central message was repeated throughout the weekend, which still rings out in my head in a rhythmic melody: "You can't ignore climate change, you can't ignore us."