Wednesday, April 2, 2014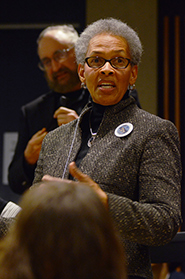 The Hampshire of Color weekend March 28-30 was more than a reunion. By connecting alums with current students over the three-day event, it was a chance to look back at how Hampshire's multicultural community has grown and thrived over the years, while also looking ahead to how to strengthen Hampshire's dedication to a fair education regardless of race, gender, or class.
View photos from the event on Facebook.
"I hope this is nothing less than a sweet inspiration for you going forward," said Ed Dees 71F, one of the alums behind the event. According to Killara Burn, director of alumni and family relations, Hampshire of Color happened this year because of Ed Dees. James Baldwin Scholars Program Director Maddie Marquez noted that when Dees shared the idea with her, "I said it was great. I didn't say it was brilliant. I should have."
Pictured right: Saundra Oyewole, former Natural Science faculty
Roundtable discussions, flash sessions, a celebration of the 25th Cultural Center, happy reconnections with and between current and former faculty and staff of color, and a recognition by Baldwin Program alums of Marquez's work as she prepares to retire this spring were among the weekend's highlights.
For Melissa Scheid Frantz, assistant dean of students for community advocacy and director of multicultural and international student services, seeing so many gathered at the Cultural Center on Friday night showed the impact it has had since its creation in 1989.
"It was so nice to see all the generations coming together, to see how the center has changed and the pride and sense of community in the room," said Scheid Frantz. "This weekend, we're not only recognizing the twenty-fifth year of the Cultural Center's existence, we're honoring the legacy of the generations who cleared the paths, laid the foundations, and opened the doors for that sense of home." Joanna Brown 72F, former director of alumni relations, and Erin Dozier 88F also spoke about the important work of former staff members Barbara Orr-Wise and Theresa (Kuji) Cooper Gordon with alums of color in the years before the Cultural Center.
The reasons attendees expressed for attending Hampshire varied. Lilly Chu 96F applied because the College "seemed to embrace the questions that weren't typically asked." Ken Green 71F, a former Connecticut state representative, used his Hampshire education "to develop policies that have a positive impact on the community." Natalia Vigil 99F and her sister Rachel 02F spoke of how college would have been impossible without the assistance of the Baldwin Scholars program.
"I know that my coming here led to Rachel coming here, and to the rest of our sisters going to college," said Natalia of the impact of the Baldwin program and, especially, Maddie Marquez. "Maddie changed the course of my life in so many ways."
Hampshire College President Jonathan Lash expressed hope that the weekend would be a mix "of reconnecting and building new networks, building mentorships, building connections between alumni and the campus community, enabling us to take advantage of these connections to get your advice for the future."
"I hope above all that everyone leaves this weekend feeling a new sense of community," he said, a feeling echoed by current student Xavier Torres de Janon 12F. "I hope you, the alums, can continue to inspire us, the students, so that we in turn can continue to inspire those who follow us."
Photo: Jarvis McCarthur 70F, Ron Gonzalez 79S, Ed Dees 71F