Tuesday, April 8, 2014
The Creativity Center at Hampshire College has awarded grants to ten student projects in two categories: innovation and experimentation, and collaboration. Projects bring together students from divergent disciplines in the pursuit of integrative learning, or fuel innovation and risk-taking in academic work that takes place both inside and outside the classroom. Awards of up to $500 were granted to students across the College.

Kourtnie Aileru
Nebulous Nebulae: Queer Hyper(In)Visibility in AfroFuturism
Aileru's Division III is an interdisciplinary exploration of subjectivity, the body, and technology. Grounded in science fiction, Aileru's work sets the Cyborg in a framework that mends intersectionality (race and gender/sexuality) and queers studies in order to complicate the mythology of the cyborg. The project includes an essay that lays a foundation of literary and artistic architecture, a series of short stories that take their directive from the genre of postcolonial sci-fi, and a multimedia art installation that engages with obscuring/queering racialized cyborgs. The image of the cyborg is already omnipresent in Western culture, but Aileru seeks to challenge the old ideologies and sensibilities that dominate the discourse in sci-fi with an AfroFuturist-Feminist vision.

Shirish Bhattarai and Michail Charalampidis
The Games We Play
The Games We Play is a feature-length film, set in fictional Emerald College. It portrays the lives of three students as they prepare to face the challenges of the adult world. This project has engaged more than 40 cast and crewmembers in learning entrepreneurial and organizational skills required in the filmmaking process. Bhattarai and Charalampidis will also provide students with access to professionals and practioners through technical skill-building workshops. This filmmaking team is committed to producing a marketable and successful feature-length film that is also the collaborative work of students who are still learning their craft.

Vicki Capote
"Tell Your Story" Workshop Series
Capote's workshop series is a call to action for students and community members, and directly addresses the need for storytelling spaces. The series aims to create a model that empowers students, providing them with leadership opportunities to share their work with individuals and establishing an effective way of building spaces which engage with community through creativity and collaboration. Using elements of design, movement, visual art, poetry, and music, the seven workshops function as a platform for mutual mentorship and dialogue between community members.

Jules Cowan
Military Occupation and Mixed Media Resistance
Cowan's Div III aims to stimulate critical thinking about the joint militarization of the United States and Israel. An original, interactive website brings together social justice and political philosophy with audio journalism and website design. Cowan seeks to encourage a more accessible and interactive process of engaging with scholarly work by transforming historical and philosophical analysis into a story-based interactive experience that facilitates reflective engagement with the U.S. role in the Israeli occupation of Palestine.

Cooper Evans
Analyzing the Pop Hook
What makes a pop song so catchy? This is a question many musicians and music listeners have pondered for a long time but have never thoroughly investigated through a music theory lens. Evans' Div III project aims to explore this question. Evans is transcribing and analyzing 24 top 40 hits written by one of the most successful and prolific pop composers to find characteristic and musical ideas that appear in a significant portion of his music. After writing an analysis of these music theory concepts, he will then compose, perform, and record catchy pop songs imbued with his own twists, creating compositions that balance the foreign and the familiar.

Suanny Garcia
A Latina's Magazine [Amerika Magazine]
Garcia's Div III centers on the publication of a magazine that aims to create a space for progressive Latinas to openly express the evolution of their identities. Garcia will collaborate with Latina students from the Five College consortium in an effort to build community, and provide content that is written by and for Latinas. This project will address and reexamine notions of gender, identity, migration, and lifestyle in the lives of Latinas. The magazine will also challenge traditional "women's magazines" formats by featuring poetry and critical theory alongside fashion.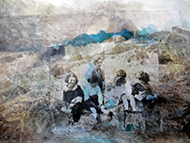 Luna Goldberg
Psychoanalysis in the Realm of the Visual
Goldberg's Div II looks at the links between psychoanalysis and visual arts through the creation of a series of artistic works that experiment with alternative photographic processes. Gloss medium, citra-solve, hand sanitizer transfers, and other mixed media work will be the medium for exploring the interconnected nature of topics such as the familiar and the uncanny, photography and surrealism, and associations of memories and space.

Kelley Kipperman
From 'Black & White' to 'Grey' Sounds: An Exploration in Graphic & Unconventional Musical Notation Through Analysis, Composition, & Performance
Kipperman's Div III explores experimental methods of conceptualizing, writing down, interpreting, and playing music/sound. Using hand-drawn scores, original compositions push the boundaries of graphic and conventional notation in music. The project culminates in an interactive performance engaging audiences and performers in group composition and improvisation. The project aims to create an atmosphere in which all barriers between composer, performer, and public are breached.

Mariel Nyröp
EMBARRASSMENT_PARTY: CLOUD // COMPLICITY
embarrassment_party is a thematic project that considers the implications of cloud computing on social, political, economic, and emotional life. The primary formats for this exploration of cloud affect include a virtual artists residency with eight international artists, and two art installations (online and in the gallery) that comprise video, sound, text, and image-based artworks created during the digital residency.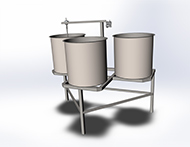 Oliver Reams
Design and Fabrication of a Half-Barrel Brewery
The steady increase in popularity of "craft beers" over the last decade has created a demand for new, exciting recipes and ways to brew these tasty creations at home. Reams will design a pilot brewing system that enacts commercial brewing techniques and practices in order to simulate commercial efficiency at the craft brewing level. The system will contribute to an overall reduction in water and fuel usage while significantly increasing the scalability of recipes. Reams hopes to create a marketable system that will be useful for many craft breweries looking to experiment with new recipes and meet increased demand.