Monday, April 28, 2014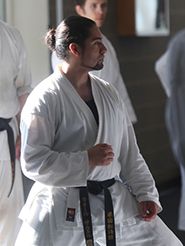 Samuel Kanner 03F, a martial arts instructor in OPRA, has received an award from Shotokan Karate of America—the 2013 Member of the Year, given for "exemplary service to SKA and its members in the East region." Hampshire's Shotokan dojo as a whole also won a 2013 award for excellence in service.

SKA is a national organization, which gathers at a convention in Santa Barbara, California, once a year. At the convention, seniors from various U.S. regions nominate individuals for their accomplishments and service to SKA. There is a vote based on these nominations, and this year their decision to honor Kanner was unanimous.

Kanner has been a martial arts instructor at Hampshire since September 2012, and has found it to be a rewarding experience. "The best part of my job is being able to contribute positively to the things that my teacher taught me how to love," he said. "It is my hope that what I'm doing is not about creating a new legacy for myself, but rather acting as a conduit of the extensive history that already exists."

Another significant part of being an instructor is "dispelling people from their assumptions of martial arts," he said. It's not just about learning to be violent, as some students may initially expect. "What makes my work distinctive is that students don't come away with the improved ability to fight, kick, or scream," he said. Instead, his goal is to help students find self-awareness and become "confident defenders of their beliefs."

Kanner said that he owes a lot to Marion Taylor, his instructor and mentor: "My teacher, Marion Taylor, taught me how to make a stance in this world and to use the teaching of martial arts as a method of making philanthropic contributions to this community." Kanner said he has "big shoes to fill" working in a position held previously by Taylor, but despite the pressure, "I can now confidently say that I am looking forward to it all."