Wednesday, April 30, 2014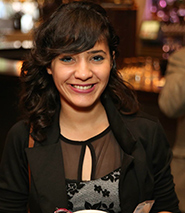 "Once you have traveled . . . the Voyaj never ends," says Yasmine El Baggari 11F, who with Jonathan Pedigo 12S has created a service to connect passionate travelers with welcoming hosts from around the world.

El Baggari (pictured right) and Pedigo are launching the web portal Voyaj, an affordable international service to connect travelers with certified hosts for a short-term stay.

Both recently received the Harold Grinspoon Entrepreneurial Spirit Award, an honor that "acknowledges a student's actions to date and encourages them to move forward in pursuit of their entrepreneurial dreams."

"Hopefully the award will help give Voyaj more exposure," says Pedigo. "It's very encouraging that people recognize and support what we're trying to achieve."

Ultimately, the duo hopes Voyaj will provide travelers with an opportunity to have an immersive travel experience for a fraction of the cost of traditional travel agencies. They want their company to become one of the most trusted services for cultural and educational interchange, and plan to use a strict certification process to ensure safety and reliability.

"I want to bring back the concept of hospitality in this world," says El Baggari.

"Our goal is to promote higher quality travel by emphasizing economy, security, and rich cultural experiences," says Pedigo. "For most young people, the only accommodations available in their price range are youth hostels, hotels, or services like Airbnb or Couchsurfing. Voyaj will give travelers a one-stop shop for all travel and accommodations with hosts."

With Voyaj, El Baggari says, "Travelers have the option of short-term visits, whereas foreign exchange programs last for six months to a year."

Currently in the development phase, El Baggari and Pedigo are using their market research as a selling point to secure partnerships and support from potential hosts.

To learn more about the project, visit voyajtheworld.com.