For Alum Artemis Joukowsky III 81F, His Family's Lasting Legacy of Support for Hampshire College Shines On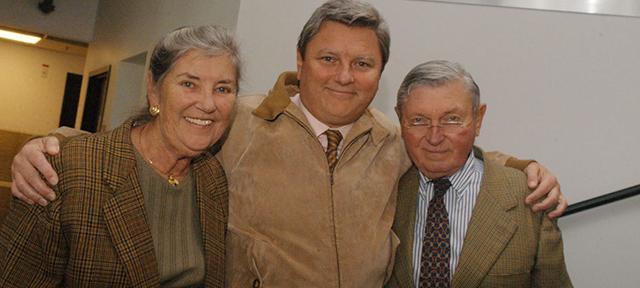 When non-profit activist, film producer, and venture capitalist Artemis Joukowsky III 81F first chose to attend Hampshire, he worried he'd be the black sheep of his family.
When non-profit activist, film producer, and venture capitalist Artemis Joukowsky III 81F first chose to attend Hampshire College, he remembers worrying he would be the black sheep of his family.
Joukowsky's father, Artemis A.W. Joukowsky, Jr., held a long, successful career in global business with the American International Group Incorporated (AIG) before returning to Rhode Island to serve his alma mater, Brown University. Joukowsky, Jr., was a trustee, instrumental in supporting the medical school, and later became chancellor emeritus of the university.
Joukowsky's mother, Martha Sharp Joukowsky, a well-known archeologist and past president of the Archaeological Institute of America from 1989-1993, taught for twenty years in the department of anthropology at Brown. She conducted archaeological fieldwork in Lebanon, Italy, Turkey, and Greece, and spent ten years studying the Jordanian city of Petra. The unspoken expectation was that Joukowsky would continue the family tradition of attending Brown.
But when Joukowsky was growing up, his mother often brought the family along on her archeological expeditions. For Joukowsky, Hampshire's academic model mirrored what he experienced with his mother when they were working in the field—an emphasis on exploration and discovery; not just someone telling you what you should and should not do. And this was the educational model Joukowsky longed for—and embraced—at Hampshire.
"She was the best Hampshire teacher I had before Hampshire. And she instilled in me, and her own students throughout the years, what a love for learning really exemplified. I would never have found Hampshire if not for my mother," Joukowsky said. 
Once at Hampshire, Joukowsky did not feel like the black sheep for long. In fact, he quickly found his place. Joukowsky's parents also both recognized the ways in which their son flourished under Hampshire's academic model. And their involvement with Hampshire came to reflect not just their devotion to their son, but another core tenant of the family ethos—generosity and philanthropic citizenship. Even before Joukowsky graduated, the family began what would become an enduring legacy of support for the College. Beyond the family's giving over the past 20 years, Joukowsky himself also founded the Martha Sharp Joukowsky Endowment for Faculty Development in honor of his mother and to support summer faculty research and travel; the Social Ecology Endowment Fund; and the Henry Morgan Venture Endowment Fund.
Former Hampshire College President Greg Prince said of Joukowsky and his family, "Artemis was drawn to Hampshire because of his love for exploration. He has continually guided his own and his family's incredible generosity toward supporting that same spirit of exploration among Hampshire faculty and students. Those gifts were among some of the most valuable resources I had access to as president, and I feel incredible appreciation to the entire family for making such opportunities for faculty and students possible."
Joukowsky's father passed away in December, 2020, at the age of 89, and leaves a legacy of support and dedication to his community that is shared by the entire family. In fact, the family are members of the Harold Johnson Society, having included a planned gift for Hampshire in their estate.
"From his adventurous attitude in business to the moving, urgent stories he tells in his films, the Hampshire spirit is alive in Artemis," said Hampshire College President Ed Wingenbach. "The philanthropic support he and his family have given the College is tangible evidence of their desire to make a better world. We are deeply grateful for the Joukowskys' friendship and commitment over so many years."
The younger Joukowsky recalls how his father felt "that one of his greatest successes in his life was his time helping Hampshire grow and thrive with the support of so many devoted alums and members of the Hampshire community."
The Joukowsky family's long history of philanthropy to Hampshire totals in the multi-millions, and through board service and service as a campaign chair, the younger Joukowsky played a crucial role in several key fundraising campaigns.
High among the younger Joukowsky's career accomplishments is the documentary Defying the Nazis: The Sharps' War, which he wrote and co-directed with Ken Burns 71F, who also served as executive producer. The film, about Joukowsky's grandparents, Waitstill and Martha Sharp, a Unitarian minister from Wellesley and his social worker wife who traveled to Czechoslovakia in 1939 where they helped hundreds of Jews and other refugees escape Nazi persecution, was broadcast on PBS in 2016.
In 2002, he co-authored Raising the Bar: New Horizons in Disability Sport, a celebration of the achievements of athletes in disability sports, and in 2005, No Limits Media showcased the Raising the Bar photo exhibit for over 80,000 visitors at the United Nations Convention in New York City. A gala event for the exhibit was co-sponsored by Hampshire and drew 500 people.
Since 2000, he has overseen and managed all aspects of the Righteous Among Us Project. This includes making the documentary film, The Sharp Archives at the United States Holocaust Museum and Brown University, and the educational curriculum developed by Facing History and Ourselves, which reaches over two million students in 50,000 schools worldwide. He is also the organizer of the strategic alliances of Facing History and Ourselves, which includes over 20 leading Holocaust and education organizations worldwide.
Joukowsky is currently involved with several films, including a four-part series on Cuba and The Genetics of Hope, a documentary he completed in 2020 on the search for a cure for Spinal Muscular Atrophy, with which Joukowsky was diagnosed at age 14.
1