Alum Harry Rosenblum: Directing Theatre, Teaching Cooking, Brewing Vinegar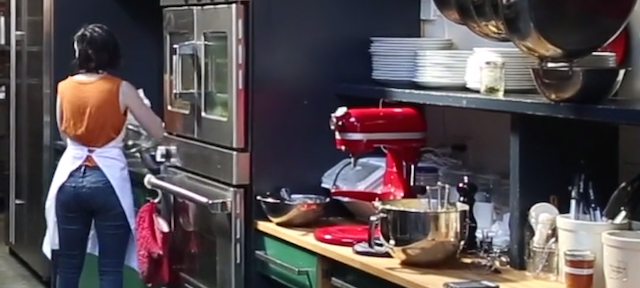 Hampshire alum Harry Rosenblum may have started his career in theater, but he's winning audiences with his second career. Rosenblum co-founded The Brooklyn Kitchen in 2006, a "radical cooking school" that teaches its students how to "cook like adults." Now, Rosenblum is having a moment, from The New York Times to an episode of The Untitled Action Bronson Show on Viceland airing Tuesday night, February 6.
After graduating from Hampshire, Rosenblum worked first in theater, off-Broadway, then joined Columbia University as a technical director. Soon, another art called to him: Home Economics.
"You start from a script, and you think, Well OK, what's the set going to look like? What are the costumes going to look like? With cooking, you start with a batch of ingredients." His prep may look different, but the process is the same.
The Brooklyn Kitchen is a 7,000 square-foot epicenter of equipment, education and ingredients, attracting customers internationally and offering a rotating roster of local produce, supplies, and 50 cooking classes a month. Some of his recent course titles are "Dumplings of the World," "Middle Eastern Breakfast," and "I Love Bread."
Rosenblum is now sharing his passion for the art of fermentation. His cookbook,
Vinegar Revival: Artisanal Recipes for Brightening Dishes and Drinks with Homemade Vinegars,
was released last August. When Harry's not in the Kitchen or writing, he's recording another episode of his podcast,
Feast Yr Ears
.
"There's always something to learn," he says, "and always something to taste."
 
instagram @thefoodballer
twitter @thebklynkitchen
1