Alums Return to Campus for Eventful Div IV Weekend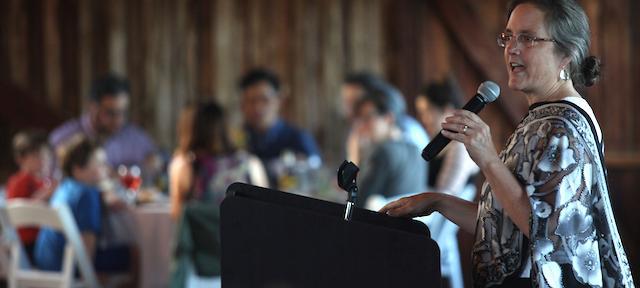 At the welcoming reception for alums returning for Div IV weekend, June 2–4, lê thi diem thúy, Guggenheim Fellow and author of the novel The Gangster We Are All Looking For, described being invited to create an installation based on her poetry for a Hampshire College Art Gallery exhibit. "When Hampshire calls and asks you to do something you've never done before, it's like they're asking: Did you go to Hampshire?" she said, referencing that the College's alums are known for their ability to tackle any challenge. The author then read poetry as she unveiled a new work of art in which she connected the violence against Emmett Till to that against victims of the My Lai massacre.
The alumni exhibit Of Soil and Tongues, curated by alum curatorial fellow Jocelyn Edens and Gallery Director Amy Halliday, runs through the summer and concludes with events coinciding with the 5th annual Amherst Poetry Festival. The exhibit's premiere opened the Div IV Weekend program of campus activities, discussions, exhibits, and tours for Hampshire alums, many of them reuniting with friends and former professors and staff.
Friday night, alums heard dinner remarks from the founding chair of the Alumni Advisory Group, Ellen Sturgis 77F. Sturgis hailed the recent creation of three Alumni Circles, in San Francisco, New York City, and Boston, with the goal of connecting Hampshire graduates. She also announced the incoming chair of the advisory group, RJ Sakai 08F, and introduced Jonathan Lash by crediting him with creating the group, and celebrating his tenure as President of the College.
Lash hailed some recent accomplishments by students, and also recognized the impact alums have had on Hampshire's success. "I feel like my entire understanding and experience of Hampshire has come from the alums I've met and worked with," he said. "It's been incredibly meaningful; you've given me a great gift."
Lash also encouraged alums to give input into the College's search for its next president, who will begin after he retires in summer 2018.
View photos from Div IV Weekend below and more in the event's Facebook album and Flickr album.
Among other highlights of Div IV Weekend was a Saturday panel entitled "Climate-Justice Solutions in an Era of Deregulation." The panelists:
Catherine Craig 08F (moderator), carbon-neutral coordinator, Etsy
Melissa Hoffer 84F, chief of the Energy and Environment Bureau in the Massachusetts Attorney General's Office
President Lash
Tim Zimmerman, visiting assistant professor of cognition and education
Other alums took part in the interactive workshop "We Are Made of Stories," during they were invited to use the arts and movement to tell their personal stories and to hear those of all the others. The workshop leaders:
Natalie Sowell, associate professor of theater
Shaina Jones 13F, sixth-grade English teacher at Success Academy Bronx 1
Alea Pierro 04F, educator
Also on Saturday, three alums led a discussion titled "Reproductive Bodies, Birth, and Babies":
Claire Herrmann 13F, Div III title: "Birth Outside the Binaries: Unsexing and Degendering"
Pamela Stone 86F, director of the Culture, Brain, and Development Program
Lauren Mitchell 03F, full-spectrum doula
Guests also enjoyed a number of workshops led by Jamila Jackson 14F, Connie Hildreth 10F, and Sarah Klein 88F, as well as a makers showcase at which alum writers, designers, artists, and photographers talked about and displayed their work.
The weekend also featured a screening of the 2016 Alumni Reel, a compilation of short clips from alums in the film and video industry, plus tours of the R.W. Kern Center and the Hampshire College Farm. The event culminated in a BBQ and party under the solar canopy, complete with music and a contradance with Professor Becky Miller and her Old Town Trio.
Div IV is an annual campus event for alums, families, and friends. Save the date for next year: June 1–3, 2018. To learn more, visit diviv.hampshire.edu.
GALLERY
1