Amanda Dennis 02S Is at the Forefront of the Fight for Abortion Access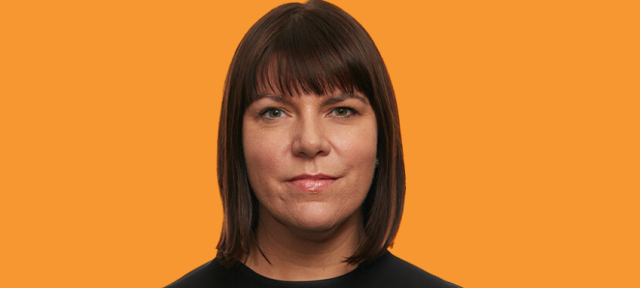 In February, Dennis met with Vice President Kamala Harris on the issue of threats of access to medication abortion. She was one of 11 medical experts and reproductive-rights leaders to take part in the conversation at the White House.
Hampshire College alum Amanda Dennis 02S is executive director of the Society of Family Planning, an organization at the forefront of the fight for abortion access and contraception research in the United States. Earlier this year, Dennis was invited by Vice President Harris to take part in a conversation with fellow experts on the country's threats to reproductive health care. They covered many key topics, from the devastating consequences of the Supreme Court's reversal of Roe v. Wade to how state-imposed abortion restrictions are hindering medical professionals from providing fundamental care to their patients. In particular, the group discussed medication abortion's safety and effectiveness and agreed on the importance of preserving its availability.
Before joining the Society of Family Planning, Dennis was for nine years an associate at Ibis Reproductive Health and served on the board of both the Abortion Care Network and the Advisory Board of Collective Power. As a scholar and activist, Dennis has dedicated her career to ensuring that individuals have access to the health care they need.  
Dennis's research has centered on a range of topics, among them understanding the impact of abortion and contraception policies on low-income individuals. Her work to address the unmet health needs of girls with epilepsy resulted in the founding of Girls with Nerve, a sexual and reproductive health website designed to inform and support teens living with epilepsy. Her research has been published in the American Journal of Public Health, Health Services Research Journal, the Journal of Family Planning and Reproductive Health Care, and other journals.
Dennis first became involved in this work with Collective Power, a national movement-building organization emphasizing reproductive justice, as a student at Hampshire College. Collective Power (formerly the Civil Liberties and Public Policy Program) was launched at Hampshire in 1981 to mobilize young people to participate in the reproductive-rights movement and has since fostered generations of activists. 
1