An Ambassador for Cultural Understanding and Hampshire College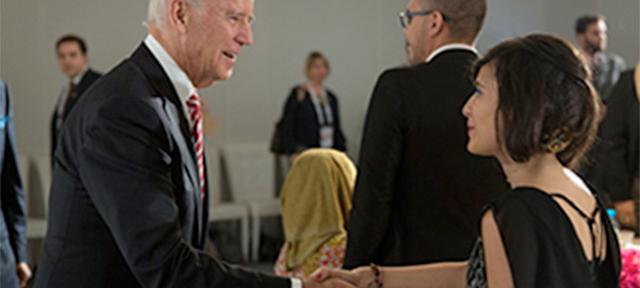 It's not unusual for a college student to take a year off. Few, however, do so with the vision and visibility of Yasmine El Baggari 11F.
While a more traditional student might take time off to explore the world, El Baggari is working to change it. She's launched an online platform, Voyaj, that's designed to create immersive cultural connections worldwide to build meaningful relationships.
The development of Voyaj's digital platform is being supported by a $59,000 grant awarded by Hampshire College's new Seed Fund for Entrepreneurship and Innovation.
El Baggari's accomplishments as a young female entrepreneur from the Arab world recently landed her in a roundtable discussion, seated with Vice President Joe Biden, Ambassador Dwight Bush, and Secretary of Commerce Penny Pritzker, at the Global Entrepreneurship Summit in Marrakech. Along with executive and entrepreneur Laura Owen, she led a workshop at the summit on mentoring for women.
Energetic and outgoing, El Baggari believes deeply in her vision of a hospitable world, and lives it. Seemingly everywhere she goes, connections are made and doors open. A chance encounter and conversation in a restaurant led to a summer internship in a research center at Harvard to work on women's rights issues in the Middle East.
In early December, she was invited to the White House for a meeting of the 100 most influential travel bloggers and digital media outlets. A week later she returned to Washington D.C. for numerous meetings, including a second one at the White House.
As the winner of a business-pitch contest in her home country, she traveled across Morocco talking about hospitality and with younger students about social interaction, tolerance, education, and entrepreneurship.
Video: Voyaj in the heart of Morocco
"It's an honor for me to represent not only Voyaj, but also my region, Arab women, and Hampshire College," says El Baggari. Her message when she speaks is similar to that of Voyaj — be open to strangers and genuine conversations because you never know where they are going to lead you. "These encounters have opened my eyes to warm hospitality in the U.S. and my arms to other cultures," she says.
El Baggari's goal in taking the academic year off is to build Voyaj into the trusted service for cultural and educational interchange she envisions. The Voyaj field team has signed up 120 users, and she anticipates soon announcing partnerships with several universities and organizations. She's visited 34 states, exploring American hospitality, and plans to visit all 50 to present Voyaj.
Rather than viewing this year as time away from her studies, she plans to integrate all of the work she's doing now into her Division III (senior) project when she returns to campus next fall.
"I talk about Hampshire College all the time in response to people's curiosity about how I can combine all of my interests. Students often say, 'I want to go to school where you go,'" she says.
Video: Why do we Voyaj?
1