April 11: Update from Interim President Kenneth Rosenthal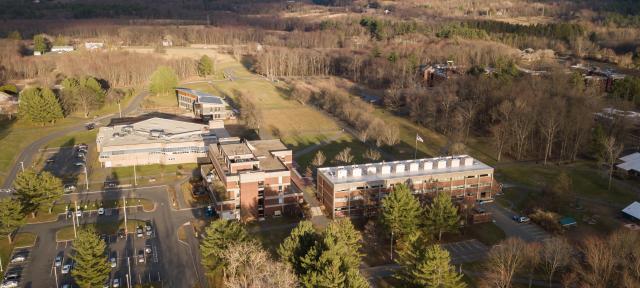 "It'll take everyone's cooperation and imagination to re-make Hampshire."
Dear Hampshire College Community,

I've been a part of Hampshire for five decades. I joined the College before it was built, before The Making of a College was published. I've been a Hampshire staff member, faculty member, administrator, parent of an alum, and a trustee from 2008-16.

Hampshire was always intended to be a college that would re-imagine itself. We were founded by our four partner colleges to be a vehicle for change in higher ed. We've made a difference in education, and it gives me hope that so many people recognize that and are paying attention now and want to support us.

It'll take everyone's cooperation and imagination to re-make Hampshire.

I've been busy since Friday. I met with Hampshire's former presidents; our Off Campus Working Group of alums and parents; and our Re-envisioning Coalition of faculty, staff, students, and alums. I've started meeting with all the presidents of the Five Colleges, and will meet with our Cultural Village partners. I met with faculty, staff, and students. And I've been fundraising.
On Friday, the Trustees voted to keep Hampshire independent and to fundraise for that purpose. We're developing a plan for a new model for Hampshire, and it'll involve a major capital campaign. I think we can do this. We'll need to raise $15-20 million over the next year, and then, over the next five or six years, perhaps close to $100 million. It's not unprecedented, and we'll have to move fast and work hard, but I'm optimistic. Alums, parents, and friends are already making major gifts.
For fundraising, we'll continue to support our Advancement Office. We'll also support Admissions. We hope all our students admitted for fall 2019 will enroll and join us, a small class but we welcome every one. We're exploring a path to admitting new students in spring 2020, and then even more students in fall 2020, the year of our 50th anniversary.
Current Students
We want our current students to stick with us. Hampshire offers you an unparalleled education. Our program, the way it empowers you, has no match in higher ed. You know it. I've seen it as a Hampshire parent.
I hope you'll continue to work closely with your advisers and deans on a schedule of courses and learning activities that's right for you. Our program allows students to earn a degree on a flexible schedule, sometimes in three years. That's an option for some.
We'll be a smaller college for the next year or two, with around 600 students next year. We need to operate as a smaller college in the short term. We're focused on providing you the academic resources and student life services you need. We've always been a small college within a large consortium, and we are used to having to adapt.
Staffing for 2019-20
While we rebuild, one of the hardest things we have to do is lose wonderful colleagues. This is a financial necessity. Even before I was named president, the College had been exploring how to keep as many staff and faculty as possible. We'll keep working on ways to keep them here.

But we will have fewer faculty and staff next year. Some faculty and staff will receive word of layoffs at the end of April. We'll do our best to support and assist affected employees with their transition.
Staff affected by layoffs will receive 60 days notice, so will work into June, and will be eligible to receive severance.

Faculty are not classified the same as staff because faculty have individual contracts. We've been discussing how to keep as many faculty members as possible in the Valley or with a foothold to Hampshire, through leaves of absence and visiting positions at partner colleges and other solutions. Faculty will receive updates directly from the Dean of Faculty's Office.
Employee Transition
Our Human Resources Office is providing resources for employees to transition, through job searches, job placement, career counseling, resume writing, and interviewing. Hampshire will host a Five College Job Fair on Tuesday, May 7, in the Red Barn, staffed by HR reps from Amherst, Smith, Mount Holyoke, and UMass Amherst.
I know you must do what's right for you and your family. HR is posting updated information on its transition webpage, and you can also call, email, or visit the HR office (contact information below).
We don't have all the answers about what Hampshire will look like next year. There will be some ambiguity. Everyone who is on campus next year can help us rebuild Hampshire. This will be hard work. It already is. But our goal is to be a stronger institution for our 50th anniversary in 2020.
Sincerely,
Ken Rosenthal

Interim President
 
Transition Resources
Human Resources Office

Blair Hall 1st floor

413-559-5605

hr@hampshire.edu
1