April 5, 2019: Letter from Miriam Nelson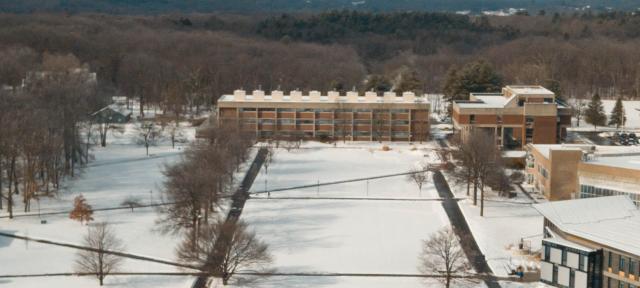 I notified our Interim Board Chair Luis Hernandez and Vice Chair Kim Saal that I am resigning as president of Hampshire
Dear Hampshire Community,
Soon after becoming president of Hampshire, I said that I wished I had gone here as an undergraduate, because I understood very quickly the extraordinary role Hampshire plays in transforming the lives of our students.

Coming to Hampshire as a student has always been an act of bravery, because assuming responsibility for your education is anything but safe. A college that embodies the motto "to know is not enough" demands a deeper commitment, and offers a bigger challenge, than what is typical at even our most rigorous peers. A half-century's experience proves that the greater risks involved in being a Hampshire student have always carried with them greater rewards. This truth lies at the heart of our alums' passionate commitment to the school.

This passion is shared by Hampshire's faculty and staff. Which is one reason why, for decades, our staff and faculty have sacrificed financially working for an institution perennially strapped for cash. To teach or work here is to show dedication that goes beyond what is expected at other colleges.

Yet "perennially strapped for cash" is not a desirable description, even if accurate. Last May, when I learned from Jonathan Lash that our entering class was again going to be significantly smaller than expected, it was clear this would trigger a chain of negative events threatening our long-term viability. So, in coming to Hampshire, I knew I needed to embrace the challenge of finding a path to the long-term financial stability that has always eluded the College.

As I dug into our fiscal reality, I learned we had stark choices. It was clear to me, and soon after to the Board, that we would need to find a partner that could help us preserve what our community has always valued in Hampshire.

I anticipated that the January 15 announcement that stated we were seeking a strategic partner, and the subsequent decision to admit only a fraction of our fall 2019 class, would create anxiety, sorrow, and anger. That has surely come to pass. For many, this entire situation came as too much of a shock and felt too much like a betrayal. Together with our Board of Trustees, I have had to make a number of very tough decisions without putting them up for a collective debate. To some, this is an inexcusably top-down, un-Hampshire way of doing things.

Yet in Hampshire's 1970 catalogue, it was clear that decision-making authority would accrue to the College's president and trustees: "The Hampshire governance arrangements will not be egalitarian; they will be hierarchical. To be involved, informed, and participating will be the responsibility and right of every member of the community; but experience, past performance, and a definition of role will determine the decision-making arrangements." This language was prescient, since throughout Hampshire's tenure, leadership has had to make tough and unpopular decisions.

Over the past twelve weeks I have tried to lay it all out there—to share with the community the same data shared with our Board of Trustees about Hampshire's fragile fiscal position—so that everyone could understand why I so believed in the actions we have taken.
Hampshire's trustees are remarkable, and I am deeply grateful for their compassion and commitment as we have grappled with the challenges we face. I do not casually use the word "commitment"—for Hampshire's budget over the past two years has been in balance only because of contributions made by members of our Board, and especially by our former chair, Gaye Hill. Learning last week that Gaye felt she no longer could remain as Board chair was deeply distressing for me.

I have also had the benefit of working with advisory committees comprising students, staff, faculty, alumni, parents, and former trustees who have engaged with us to envision Hampshire's future. I am grateful for their frank insights, as well as the support and feedback of so many key stakeholders in the Pioneer Valley and across the country.

Since our announcement that we were seeking a strategic partner, I have been gratified by the outpouring of support for Hampshire. Yet even as we made some progress in finding a sustainable and impactful future, the mere fact that we were doing so pulled our community apart.

For this reason, two days ago I notified our Interim Board Chair Luis Hernandez and Vice Chair Kim Saal that I am resigning as president of Hampshire, effective at 4:00 this afternoon.

So long as I were to remain president of Hampshire, the community's feelings about me would be a distraction from the necessary work. I am confident a new leader will work within a more favorable environment and find the path to daylight that has eluded me.

I also told Luis and Kim that I believed the Board of Trustees now had two paths to choose from: to continue our search for a partner or, given the expressions of passion from many of Hampshire's alums, go all-in on a fundraising campaign to support an independent model. I also said I hoped they could quickly identify and name an interim president so that at this critical moment there was no gap in leadership. I am very grateful that immediately following my sending this letter, Luis will update the Hampshire community on a number of important matters coming out of today's Board of Trustees meeting, including an announcement on new leadership.

This is a moment for the Hampshire community to come together, and I trust that you will do so. For to not come together will surely be the demise of this extraordinary institution.

In a short period of time, I have come to love Hampshire, and to deeply admire the students, staff, faculty, alums, and friends whom I have had the great pleasure of getting to know. I am incredibly grateful for the chance to have worked with Gaye Hill and Kim Saal, and for the commitment of the entire Board. I am deeply appreciative of our senior leadership team, who have been working selflessly to preserve what is great about Hampshire for its next fifty years.

I am by nature an optimist, so I am keeping my faith that Hampshire will arrive at the right solution to its challenges. It needs to change, to embrace its core value of experimenting. It will take realism, and I hope that the community will have the fortitude to make tough decisions. Hampshire's resource of time is far from infinite. I leave knowing that if there is any community that can creatively surmount obstacles, it is Hampshire.

With respect,

Miriam E. Nelson, Ph.D.