'Art Questions' Course Provides Sweeping, Immersive Arts Experience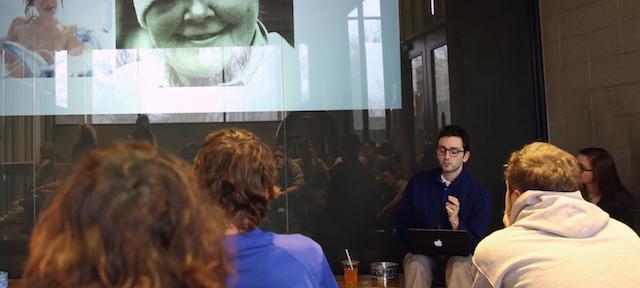 Hampshire students who undertook a sweeping, immersive arts and humanities course funded by a coveted grant from the National Endowment for the Humanities (NEH) recently capped their studies by presenting their work to the campus community.
The presentations —written analysis, original creative writing, and artwork — were the culmination of in-depth studies in Art Questions, a course developed and taught over two semesters by Professor of Architectural and Art History Karen Koehler. Koehler applied for, and was awarded, a National Endowment for the Humanities (NEH) "Enduring Questions" grant, awarded to only 11 percent of applicants nationwide and funding only about 20 projects annually.
The grant supports faculty in the preparation of a course on a fundamental concern of human life as addressed by the humanities. Courses are designed for undergraduates and teachers to collaborate in a deep, sustained program of reading and encountering influential works and thinkers over the centuries.
Koehler says her focus in developing Art Questions was to combine a history of art with a history of aesthetic theory, and to ask questions such as What is authenticity? What is originality? What is creative expression? Is art transcendent?
The NEH grant enabled Koehler to provide students with an immersive experience that ranged from weekly film screenings, including a series at the Amherst Cinema; to trips to museums in New York City as well as within the state; to visits from professional artists.
Students also had access to works from Hampshire's permanent collection. The Samuel H. Kress Foundation Curatorial Fellow and Hampshire alum Jocelyn Edens helped to facilitate student interactions with the collection. "We have an open policy with our special collections, so students could carefully touch these objects; I don't think that's particularly common with a college collection," she says. "Doing investigative research on under-studied collections gave students a chance to analyze primary documents that no one else has written about."
Third-year student Hayden Lilly Daiber, a teaching assistant, said the hands-on approach amplified the impact. "We got to look at a lot of amazing artwork and get up close to it, an experience that doesn't usually happen in classes," she says. Daiber says she found handling original artwork more powerful than studying digital reproductions. "When the JPG is all funked out, you really don't have the sense of the aura around the work," she says. Having the artists come and talk to the students was equally important, she says.
Koehler hopes to offer the class again when she returns from her sabbatical, in spring 2017. "The grant's emphasis on critical inquiry, on the perpetual investigation of what it means to be an intellectual and an artist, while destabilizing conventional modes of teaching: that links this program to Hampshire's legacy of experimentation in the arts and humanities," she says.
Any views, findings, conclusions, or recommendations expressed in this feature do not necessarily represent those of the National Endowment for the Humanities.
CAPTION: Students presented their final projects on the library's Magic Board. 
One student presentation focused on a series of Russian posters from the
Hampshire College Archives and Special Collections.
1