Artist and Hampshire Alum Leidy Churchman 98F's Paintings are Absorbing Meditations of Consciousness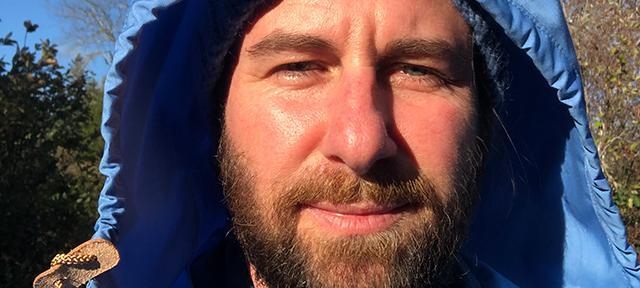 Churchman's work is currently in collections at the Whitney Museum of American Art and Mumok, among other locations. 
Hampshire alum Leidy Churchman 98F is a visual artist whose work often explores, with thoughtful curiosity, ideas of perception and knowing. From the scale of Churchman's paintings, which can vary from diminutive one-foot-tall canvases to pieces spanning more than eight feet, to their expansive choice of subject matter, ranging from reclining granite Buddhas to internet images of a highrise's elite skyline view, everything and anything becomes "paintable."
Churchman's work is currently in collections at the Whitney Museum of American Art and mumok, and their work has been exhibited at MoMA PS1 in New York, Museum Brandhorst in Munich, Modern Art Museum of Fort Worth, and the Museum of Contemporary Art in Los Angeles. In 2019, the Hessel Museum at Bard College in New York organized an exhibit including more than sixty paintings made by Churchman over the last ten years. Churchman has also been featured in Hypoallergenic, Tricycle, the New York Times, and other publications.
While Churchman's paintings are each thoughtful explorations of the artist's current interests and often influenced by their own Buddhist practice, Churchman doesn't start the work with a definite ending in sight. "What I think is really wonderful about painting is that you can just begin. Whatever I'm thinking about, or things I find really curious, will make their way into the work, and some will become really detailed and some will be abstract and gestural. With the show I'm hanging right now in London, I'm also having this great moment seeing the paintings start to say things together that I didn't set them up to do. That's really why I love painting—because of how absorbent painting is to what's going through our minds and how we're perceiving and thinking about the world."
Churchman, who currently splits their time between New York City and Maine, often has multiple projects in process at any given time and finds that also lends surprise and energy to the work, taking the art in unexpected directions. "It's similar to if you're talking to one friend for a while and getting advice from them and then you need to call someone else and have a different kind of conversation. My reality will be totally different, and I'll reckon with those images in a new way."
When first looking at colleges, Churchman knew they wanted to make art, but they were concerned because they hadn't studied art in high school. "So many art schools required portfolios of work," Churchman said. "I remember thinking, how are you supposed to have that if you are just coming into it? For me back then, it was a feeling like when your eyes are closed. I was trying to find what I didn't know I was looking for."
But Churchman did find what they were looking for at Hampshire. In fact, Churchman credits Hampshire for proving to be the ideal place to begin their art career because of the interdisciplinary and experimental nature of the academic model and the community. "I was making billboards in the metal shop and then putting huge paintings on them with lights over the top and trying different things all the time. I think of Hampshire now as being the best art school because it is all about experimentation and mixing things together, and everything that people are doing there is artistic in a way."
Asked if they had any advice for future artists at Hampshire, Churchman laughingly suggested for them to "make a big enough mess in the Art Barn that they will give you your own studio."
Churchman's newest exhibit, The Between is Ringing, is open at The Rodeo Gallery in London until June 4, 2021.
Pictured below: Churchman's Buddhadharma Fever (2019)
 
1