Assistant Professor Bynum Debuts New Course on #BlackJoy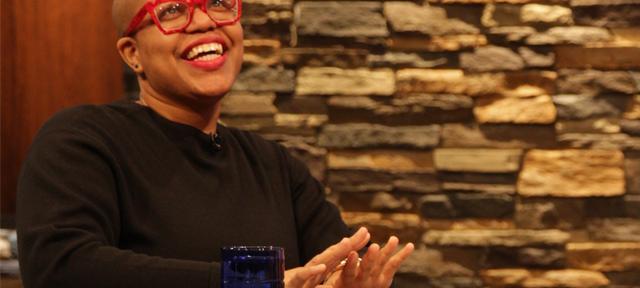 In the realm of African American literature and culture, the idea of joy is often ignored. This lack of exposure, illuminated by a timely social-media campaign about the concept, inspired African American Literature and Culture Assistant Professor Tara Bynum to design a course she has titled Reading, Pleasures, #BlackJoy. 
During the fall term, Bynum and her students delved into black joy and #blackjoy. The popular hashtag was started by the Black Joy project, partnered with Black Lives Matter, to use #blackjoy as a means of resistance, affirmation, and antiracism by filling social media with uplifting images of black experiences. Bynum and her students studied related works by notable authors such as Toni Morrison, Ralph Ellison, and James Baldwin, who was a member of Hampshire's faculty in the 1980s.
Bynum says the course encouraged introspection and deep analysis from students. "The class used black joy as an interpretive tool for students to illustrate the complexity of their own human experience," she says, likening her approach to a number of analytical frameworks, among them Marxism and deconstructionism.
The course ended with an intensive, two-night TEDx-style symposium, at which students presented independent research projects. Topics ranged from the role of black joy in music, childhood, and the public-education system to a discussion of veganism and healthy living. 
Jackie Christine Mallard, a second-year Division II student studying animation and storytelling, was inspired to take the course by its unique take on black history and culture. "In high school, my humanities courses spoke a lot about the inequalities and oppression embedded into American culture," she says. "I was delighted to see a Hampshire class that focused on blackness under an analytical and 'joyful' light."
Her "Black Lines and Black Skin" analyzed the representation of blackness in animation and how it can create a path of agency for black people. It covered racism in early animation and in present depictions of black people as protagonists, and proposed a future of more diverse animation characters.
Spencer Johnson, another Div II, is studying clinical psychology and social theory. His presentation was on the absence of black joy as a topic in academia and included a look at the differences in how tenure is handed out to black professors at UMass and the lack of discussion of black joy by white people in higher education.
The symposium enhanced his learning experience, he says: "You're showing up for your classmates to support them and all of the work they did along the way. I thought the presentations were incredibly well done, and helped expand my understanding of the course as a whole."
Bynum says she has long wanted to conclude a class with a symposium. "Giving the students the rubric from the TEDx-style guide helped them tackle the research better than giving them an essay," she says. "The style guide is straightforward — make the audience care, give them a call to action, and create a new reality. I've been consistently impressed by the way students are able to reflect on their own experience with the help of an audience." 
1