Center for Design Celebrates 20th Anniversary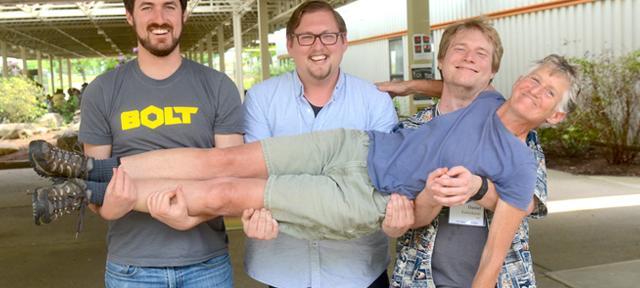 The 20th anniversary of Hampshire College's Center for Design (formerly the Lemelson Center) inspired this year's Div IV alumni weekend theme of "Build, Create, Design," just as the center itself has inspired students and alums to design, make, and innovate over the past two decades. 
"The Center is a place where pretty much if you can imagine it, you can make it," Colin Twitchell 78F, senior faculty associate of design and innovation for social change and founding director of the Center, said at the anniversary event.
More than 1,200 students have been actively involved in the Center since its beginning, said Twitchell, with as many as 65 significant student projects completed annually. He credited the staff, faculty, and students who have been involved over the years for helping to make it a space where art, design, technology and "seat-of-the-pants innovation" meet.
"This is one of the oldest academic maker spaces in the country," he told the alums in attendance. "For me and many of you, it's a place where no idea is a bad one; it's just a starting point for a good one."
Open to all Hampshire students for academic and personal projects, the Center for Design offers a unique laboratory for them to explore design and fabrication, and features a shop equipped for work with metal and plastics plus a lab for manual and computer design. (Learn more about the Center for Design and its capabilities.)
Fabrication Shop Supervisor Glenn Armitage 81F took on the task of creating the center from scratch in 1994, remembered his wife, Holly Ann Sobel Armitage 83F.
"We had a one-year-old, who's now just graduated from Hampshire [Kaethe Armitage 14F], when Glenn got the job," she said. "He had a little room in the basement of Cole, and he went on this search to find equipment and create this space with others. It's been quite a journey."
For Armitage, it started off with the challenge of figuring out how students with vastly different interests could make the center part of their academic work.
Students, he said, provided many of the ideas that helped shape the ever-evolving space. They influenced the development of offerings such as blacksmithing, jewelry work, and work in hot glass. They have also contributed through the Shop Coach program, which provides novice makers with support from more-experienced student mentors.
'The first thing we tell new students is that the center belongs to them as much as anybody else. There's no pecking order," said Armitage, "Everyone is welcome, and all are responsible for the shop when they're working here."
That inclusive atmosphere, said many alums, is a major reason they enjoyed the center so much. Learning how to "make art from fire" at the Center was a life-changing experience for Katie Richardson 02F. She now runs Blue Barn Studio, where she creates housewares, jewelry, and other accessories from flame-worked glass and welded steel. At the Div IV talk "Making It in the Real World: Alumni Ventures in the Maker Realm," she said she's still surprised when people are impressed that a woman can weld.
"We shouldn't be having that conversation anymore, but we still are somewhat," she said. She also pointed out that it was never an issue at Hampshire.
Alums who worked closely with Assistant Professor of Applied Design Donna Cohn, among them Ben Einstein 05F and Dillon Compton 06F, enjoyed catching up with her at the Makers Showcase, and spoke about the influence her involvement had on their work. Her courses in appropriate technology and ecologically sustainable design have led to a variety of student projects, ranging from advanced wheelchair technologies to building a low-cost pearl-millet thresher. (Ben Einstein reflects on the Center's impact on his career; he is now a cofounder and managing partner of Bolt, a venture-capital fund that addresses the unique needs of early-stage startups at the intersection of hardware and software.)
Pushing past the stereotypes of a traditional shop atmosphere is ingrained in the Center for Design's philosophy. Twitchell said that it was encouraging to see art, sculpture, theater, and electronics students find their way to the Center as word spread the many ways the space could be used.
"I think over the next few years we will continue to see an increase in these types of students," he said, "with the addition of more students interested in appropriate technology and sustainable living."
Don Dupuis, a former shop assistant who recently retired, was a formative influence in establishing the blacksmith program; he had learned the craft from his father and passed it on to countless students. Former Center staffer Roxy Finn was at the celebration, and she recalled the friendliness and skill Dupuis exhibited.
"He made you feel instantly at home in the shop," she said. "I asked him many times to do small projects with me, and I wish he was here today."
Arion Thiboumery 99F remembered the DIY ethic that went into helping to start the campus's Blacksmith Collective.
"I drove to Vermont, where we literally bought a ton of coal, built a forge, and went to yard sales to find blacksmithing tools," he said.
Price Armstrong 03F said that he built a bicycle at the Center that he still uses daily to ride to work. "Originally I called it the 'rough rider,' but after one of the refinements, it's now the 'easy rider,'" he said. "I imagine if I'd gone to some other school or had a less patient teacher, I wouldn't be riding it today."
Beginning with Twitchell's leadership, the Center for Design has been committed to using applied design for social change, and with the assistance of staff and faculty like Armitage and Cohn, students have brought projects from the shop to numerous real-world situations. Emily Ryan 07F and Katie Coupe 08F, for example, joined with Associate Professor of Public Health Elizabeth Conlisk in developing a portable gynecological-examination table for use in developing countries. Coupe credited the center for providing the guidance and facilities that made it possible for the table to be fine-tuned over several years based on field experience.
"Because we have access to this technology and these tools," said Coupe, "we can design things that benefit people."
GALLERY:  Images from the Center for Design's 20th anniversary year including students using the center, plus alums reunited with faculty at Div IV Weekend in June, 2016.
1