Chautauqua Institution Features Professor Darlington and Advisor Bernstein in Summer Lecture Series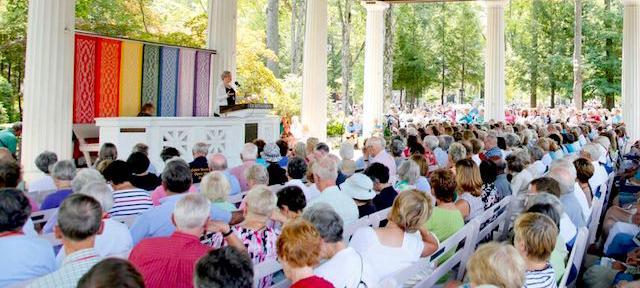 Hampshire Professor Susan Darlington and Rabbi and Advisor Ellen Bernstein were invited to deliver featured lectures at the esteemed Chautauqua Institution. Chautauqua, which hosts more than 100,000 guests each summer, is dedicated to the exploration of the best in human values and the enrichment of life through a program that explores the important religious, social, and political issues of our times.
Darlington, professor of anthropology and Asian studies, also has broad expertise in environmentalism, Buddhism, and the human/nature relationship. She is the author of The Ordination of a Tree: The Thai Buddhist Environmental Movement, in which she examines use of the Buddha's teachings to promote ecological awareness and environmental actions. She heads Hampshire's Tibetan studies program through an exchange with the Central University for Tibetan Studies, in Sarnath, India.
Her Chautauqua lecture, July 28, now published for viewing on the organization's YouTube channel, was titled "Interdependence and Impermanence." In it, according to the institution, Darlington gives insight into both the ecological problems and solutions inherent in Buddhist practices.
Bernstein, campus rabbi and advisor for identity and praxis, has been dubbed the "birthmother of the Jewish environmental movement. She has written/edited several books on Judaism and ecology, among them Ecology & the Jewish Spirit (1998) and The Splendor of Creation: A Biblical Ecology (2006). She was a featured speaker at the 2014 Religions for the Earth conference, at the final ceremony of the 2014 People's Climate March, and at the 2015 Parliament for World Religions.

In her July 26 lecture posted for viewing on YouTube, "A Creator God and a Sense of Place: A Jewish Ecotheology," Bernstein asserted that the way our culture normally thinks about God has been disadvantageous ("disastrous" she added) for earth, but there are other ways of thinking about God that would engage us to live more harmoniously with earth, that would be beneficial for earth.
1