Collage Exhibit by Visiting Professor of Photography Richard Kraft on View Through April
The Long Border and Other Works is currently on display in the Jerome Liebling Center's main gallery.
For the Italian writer Italo Calvino, "multiplicity" begins with the smallest thing, tracing its network of connections and relationships as the threads multiply into an infinite net. It ruptures certainty and serves as both an antidote to dogma and a means of representing the world without diminishing its complexity. It is an embrace of contradiction, ambiguity, paradox, and polyphony.
In Richard Kraft's collages, multiplicity is not only a method of working, but also a habit of mind. As he collects, alters, and arranges fragments, his work opens an expanse of possibilities in the unexpected connections among disparate things.
The largest collage in the exhibition, Wing (banner image above), comprises thousands of fragments from almost 100 comic books — stories of superheroes, aliens, and monsters; of gods and goddesses from Greek, Roman, and Hindu mythology; of figures from American history, folktales, and literature — each storyline simultaneously present, absent, and transformed. Like his Study for Ulysses, composed of pages from the James Joyce novel, Wing revels in cacophony, in "a chaos of knowledge forming itself into coherence," in the words of William Kentridge, in the fertility of instability and the mutable.
In his more recent collages, Kraft continues his work with the concept of multiplicity infusing "lightness," which Calvino extolls for its ability to evade inertia, subtract weight, level hierarchies, to float. These quieter works are composed of small pieces, some just slivers, of Kraft's photographs. As he crops, he loosens the images from their original subject, which may or may not be discernible. What matters more is its interaction with what is above or below or next to it: the eye is always moving as relationships emerge between tiny fragments hardly larger or smaller than any another.
About the Artist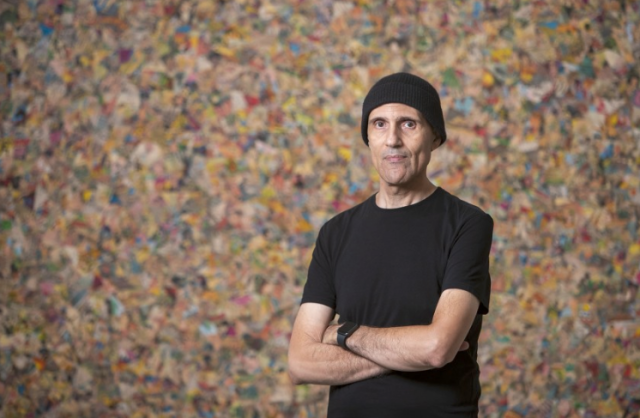 Richard Kraft is a British-born artist whose multidisciplinary works engage many spheres of inquiry (language, literature, history, and popular culture) and incorporate a variety of media (film, collage, photography, drawing, and performance). This diversity of interests and methods is united in acts of alteration and transformation of the everyday world and in the exploration of simultaneity, multiplicity, and indeterminacy.
Kraft is the recipient of a 2021 Guggenheim Fellowship and the author of two artists books—"It Is What It Is": All the Cards Issued to Donald Trump, January 2017–January 2021 and Here Comes Kitty: A Comic Opera. He is also the coeditor of John Cage's Diary: How to Improve the World (You Will Only Make Matters Worse); Marcel Broodthaers's My Ogre Book, Shadow Theater, and Midnight; and Photostats, by Felix Gonzalez-Torres. He hosts the podcast Acts & Facts, during which he interviews people about what they consider their eight talismanic books.
Liebling Center Hours
Monday–Thursday, 8:30 a.m.–11 p.m.
Friday, 8:30 a.m.–6 p.m.
Saturday, 2–6 p.m.
Sunday, 2–11 p.m.
1