Context and Schedule for Layoffs: February 13, 2019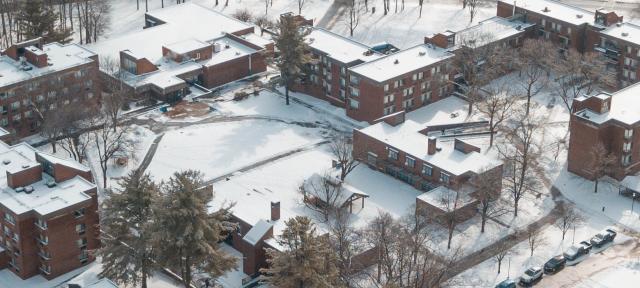 Accepting a significantly smaller incoming class this fall means that Hampshire will become a smaller institution
Dear Hampshire Community,

A month ago I wrote about our intent to find a long-term partner that can help us achieve a sustainable future for Hampshire. It's been a painful month for the Hampshire community, to put it mildly. Announcing that we're seeking a partner was interpreted, correctly, as an existential crisis for a school that's beloved by so many. We've learned that it's not only students, alums, staff, faculty, and parents who have been touched by this College and our unique approach since our doors opened in 1970. Many involved in higher education, and observers of the impact we've had, have spoken up in support.

We said on January 15 that by moving forthrightly now, we're able to take advantage of a precious resource—time. Yet on February 1, when the trustees voted to not accept a full entering class this fall, many took a dire interpretation of what this means for Hampshire's future, and pending the success of our search for a partner, that interpretation is correct. I want you to know that discussions with potential partners—who believe in Hampshire, our educational mission, and our values—are continuing in full.

Over the past four weeks, we've encouraged a full and open conversation about the threats to Hampshire's long-term survival. As part of this conversation I released to the entire community the presentation made to the Board on February 1 entitled "Hampshire's Fiscal Reality: 1965-2019," and because I believe it's so important that everyone read it, I'm linking to it again here.  What you'll see is that a college that was never properly endowed, and that has always stayed just one step ahead of financial calamity, now finds that its stride is slowing while the headwinds pressuring so many small colleges are increasing.

Because we've long been used to doing so much with so little—because for our entire existence we've had faculty and staff who so believed in Hampshire that they would make personal sacrifices in compensation to keep it going—some might have thought Hampshire would always be able to get by in its current form. The reality is, we can't. That's one reason our painful announcement to not accept a full class this fall has struck so deep.
Layoffs and "A Smaller Institution"
Accepting a significantly smaller incoming class this fall, as we've stated, means that Hampshire will become a smaller institution, even as we aggressively explore long-term partnerships. I know upcoming layoffs are on everyone's minds, so I want to give you details about that now.

The very first question we've all been asked is when will layoffs occur, so I'll address that first: On February 19, this Tuesday, supervisors and Human Resources will have private conversations with staff members whose positions are being eliminated, and will give staff members 60 days notice at that time. And since we know that we'll need another workforce reduction this semester, we expect to make those notifications on or near April 1.

There is no way to do layoffs that doesn't cause pain or hardship. And being in a small and close community makes this situation all the more difficult. But I want to reiterate that our ultimate goal is and has been to secure Hampshire's future. Not doing layoffs will hasten Hampshire's closing. In becoming a smaller school, we'll be better able to stabilize our finances, which will give us time to pursue the best options for bringing about the next iteration of the College.

We've worked closely with the Staff Advocacy Committee to listen and understand the sensitivities to staff as we made plans to move forward. We wanted to be as comprehensive as possible in describing the financial realities that necessitate layoffs, in answering questions that might arise, and in providing the appropriate support services. To do this as thoughtfully as we could, and to put all of the relevant structures in place, has taken time. We appreciate your patience. Supporting every employee with dignity and respect through upcoming transitions continues to be our priority and focus.

I'm linking here to a detailed FAQ that addresses essential concerns and lists resources. Criteria for layoffs, timelines, benefits, contact information, and more are included. We'll update these as necessary.

Of course, the Human Resources office is available anytime to answer questions or clarify issues. They're on the first floor of Blair Hall and at 413-559-5605 and hr@hampshire.edu.
Continued Collaborations
When I said on January 15 that transformational change can be incredibly trying, I know now what a vast understatement that was. We'll continue to work with all of our stakeholders in an open, honest, and ethical manner to get through this most difficult time. And as I stated above, discussions with potential partners are continuing as well. I've been heartened over the past month not only by the public expression of support for the College and what we stand for, but the private expressions of interest in working with us.

Sincerely,

Miriam E. Nelson
President
1