Div III Project Sows Seeds for DIY Film Community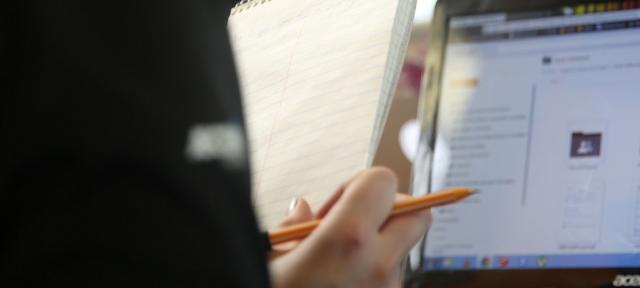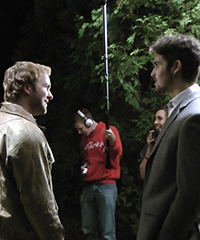 Through his Division III (senior) film, The Games We Play, Michail Charalampidis 09F saw a way to develop a collaborative film community at Hampshire that could last long after he graduated.

"I decided to make a film that involves a lot of people," he said. "Instead of doing something small with just a few people, why not try something bigger?"

The film, focused on "the dangers of youthful ignorance," has involved more than 50 students, faculty, and others in the Five College community since production began last fall. Conversations between Charalampidis and Shirish Bahattarai 11F, co-producer of The Games We Play, sparked the idea of building a long-term collaborative plan based on developing a film studio-like group on campus.

"It's surprising how many people want to work together, but don't know how," said Bhattarai."I study entrepreneurship, and collaboration is a big part of that. I felt this would be a beneficial process. How can we create a system that sustains and encourages collaboration at Hampshire?"

"Studio" work of this sort isn't unprecedented at Hampshire. Bit Films, developed by Associate Professor of Media Arts and Sciences Chris Perry and his students, has made several award-winning animated films while drawing on the varied talents of students across campus. Professor Perry is Charalampidis' Div III chair (with Associate Professor of Theatre Djola Branner as committee member), and his input has been well-heeded. Charalampidis also credits Ronald Dean Bashford, assistant professor of theatre and dance at Amherst College, for his involvement.

"I've taken a lot of classes at Amherst and Smith, and I just clicked with him. Even though he was on sabbatical last semester, we were still able to talk about the film," he said, noting that Bashford also had a role in The Games We Play. "It's good to have connection with a mentor that reaches outside of the academic environment."

A $500 collaboration grant from Hampshire's Creativity Center will partly pay for funding of workshops on campus with film professionals the pair hope will bolster students' production skills.

"It's great that they want this to be a DIY model for how this sort of collaboration can be done," said Creativity Center associate director Carla Costa. Charalampidis added, "I hope this raises the bar. There are tons of short films made by students, but what if Hampshire became a school that was known for creating one long film each year? It would be great."

For more information about getting involved in the film collaborative, contact Charalampidis at mic09@hampshire.edu or Bhattarai at sb11@hampshire.edu.
1