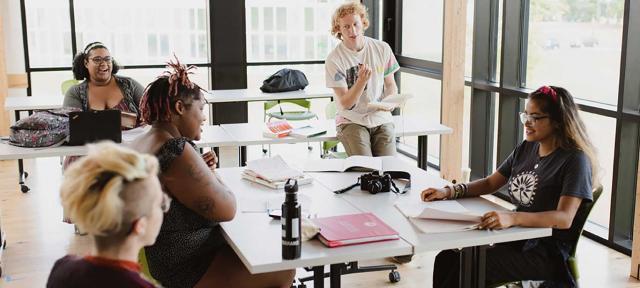 The Ethics & the Common Good (ECG) Project is pleased to announce the awards for the 2018-2019 Common Good Student Project grant cycle. 
Each year, ECG awards grants to students developing projects, research, and internships that align with the mission and goals of the Ethics and the Common Good Project. ECG particularly aims to support community-engaged learning experiences that contribute to or critically engage with issues regarding the common good and ethical inquiry. Through their ECG-funded work, students cultivate and collaborate on visions and practices rooted in concern for cultural, artistic, scientific, and ecological flourishing as they contribute to and build up the common good.
This year, ECG awarded a total of $8,000 to 20 students engaging in a wide range of interdisciplinary research interests. Grant funded projects include an academic peer advising pilot program to increase knowledge sharing between Division I, II, and III students at Hampshire College, a feature-length documentary investigating the ethics of the amateur basketball industry, a dialogue project that aims to build bridges across political divides, and multilateral health research mapping a holistic landscape of postpartum depression, among an array of other community-engaged academic projects.
If you would like more information about these grant opportunities, and ECG in general, visit us online or contact commongood@hampshire.edu.
---
2018-2019 Student Project Grants
Alea Alexis | Division III Project
Attendant: Portraits for My Mother, Her Workplace, and Her House
Alea Alexis explored the connections between work, care, diaspora, embodiment, and home as she photographed her mother and other nurses at NYU Langone Medical Center. Alea's images documented and uplifted their stories, while investigating the impacts of working within the healthcare industry on their health and homes, including her own foreclosed former family home. She hopes these images will illuminate the underrecognized role of Black immigrants in the nursing industry, and expand representation of their stories through art.
Aly Albertson | Division III Research
The Promises and Perils of Pleasure Positive Sexual Education
Aly Albertson conducted interviews with educators bringing best practices in inclusive, pleasure-positive sex education into public school classroom settings, and collated their experiences into a review of methods intended to serve as a resource for sex educators. Aly connected with colleagues in their field at the National Sexual Education Conference, the largest conference in the United States exclusively devoted to sexuality education, as well as participating in Planned Parenthood's Sexuality Education Cornerstone Seminar.
Amelia Margolis and Emma Jordan | Collaborative Division II Project
Hampshire Free Store
Amelia Margolis and Emma Jordan, along with a coalition of students from on-campus student groups, offered pop-up spaces for resource redistribution, celebration, and connection throughout the Spring 2019 semester. Hampshire Free Store events provided a fun and accessible space for students to regularly donate, exchange, and reuse unwanted items while sharing free food, music, and connecting with fellow community members. The Hampshire Free Store team hopes to raise awareness and take action around challenges of campus waste, food insecurity, and the need for community in times of change.
Annie Wood | Division III Project
HIPS Oral History Project
Annie Wood conducted an oral history of HIPS, a harm reduction center in Washington, DC that predominantly serves sex workers and injection drug users, providing services from a syringe exchange to housing support. Using interviews with current and former staff members, Annie charted a trajectory of how HIPS has developed over the past twenty years, analyzing how they've practiced harm reduction, rooted themselves in local communities, and developed their philosophy of care.
Brianna Deane | Division III Project
Youth Day at Five College Queer Gender & Sexuality Conference
Brianna Deane coordinated and organized the addition of a 'Youth Day' to the 10th Annual Five College Queer Gender & Sexuality Conference. Dedicated to empowering pre-college LGBTQ+ youth, Youth Day is one of the only conferences of its kind in the Northeast region. Through a broad spectrum of free workshops, panels, performances, and lectures, Youth Day aimed to offer an accessible platform for LGBTQ+ young people to explore youth-led initiatives and activism, grassroots organizing, professional skill development, personal and community wellness, and artistic expression.
Carmen Figueroa | Division III Project
Fragments of Belonging
Carmen Figueroa curated her thesis collection of large-scale photographic works and video installation of her family in New York and Puerto Rico in the Hampshire Art Gallery in December 2018. Part artistic exaltation and part institutional critique, her project Fragments of Belonging recreates and reimagines her family, herself, and their stories to shape wholeness from fragments of images and memories. Through her work, Carmen reflects on using photography to regain authorship and agency of her own narrative, recapture knowledge both stolen and lost, and reclaim historically limiting spaces to create a world of belonging that centers diasporic wisdom.
Che Williams | Division II Project
Exploitation in Amateur Basketball
Che Williams is traveling around the United States to film and produce a full-length documentary on the exploitation of student athletes in the world of amateur basketball. The documentary hopes to shine a new light on the collusion between basketball associations, like the NCAA, AAU, and NBA, aided by the sneaker industry and Hip Hop icons, all raking in huge profits off the labor of Black and brown youth trying to make it big in the competitive world of amateur sports. Che will center the voices of the athletes as they speak on the challenges and supports they face moving towards their dreams, and their visions for the future of the amateur basketball system.
Dunan Herman-Parks | Division III Project
Movement to be Better Men
Dunan Herman-Parks crafted and facilitated an 8-week embodied workshop series on disentangling cultural patterns of harm and making meaning of masculinities. Dunan guided an intergenerational cohort of men who supported one another in understanding themselves, their stories, and messages about masculinity that they've internalized. In moving through and reflecting upon their experiences, Dunan hopes to lead the group in healing from harm they've seen in themselves and others, reconnecting mind and body, and creating ethical visions of healthy masculinity.
Emi Link | Division III Project
Peer Mentorship at Hampshire College
Emi Link led a cohort of students in a day-long training, developing skills to create a network of Peer Mentors within the academic structure of Hampshire College. In this pilot program, peer mentors would support fellow students within the context of academic advising, creating a systematic approach to increasing access to key knowledge, support, and resources learned through the process of participation in the uniquely self-directed and interdisciplinary Hampshire educational model.
Emmett DuPont | Division III Project
Trans People, Trans Bodies: in and out of birth, parenthood, and pregnancy
Emmett DuPont drew on audio interviews to gather seldom-heard stories of transgender birth and parenting, as well as the voices of trans people who choose not to pursue biological parenthood. As an instructor at LightHouse Holyoke, Emmett also led a cohort of youth in creating a policy brief from their own perspectives about transgender rights and legal protections. Emmett hopes to challenge stereotypical narratives of transgender lives and elevate the stories that transgender people wish to tell about their own bodies, needs, and lived experiences.
Forel Kourouma | Division III Project
NKO Abroad
Forel Kourouma developed a summer internship program, NKO Abroad, that offers a platform for U.S. university and college students to work with local entrepreneurs in Touba, Senegal on pre-established businesses, using a framework of Asset-Based Community Development. Through collaboration between these entrepreneurs and student interns, he hopes to subvert the extractive culture of "voluntourism", and create a unique relationship-building opportunity for students to learn directly from entrepreneurs' experiences of commerce and development in Touba.
Hannah Davidson | Division III Research
Situating Postpartum Knowledge(s): Maternal and Provider Understandings of Postpartum Depression
Hannah Davidson interviewed parents, physicians, and behavioral health providers on their experiences with postpartum depression as a diagnostic category, mental illness, and vulnerable period of human growth and transition. Through the lenses of reproductive justice and critical ethnography, this investigation aimed to expand the frame of postpartum depression, inviting in the wider context of identity, isolation, access to resources, environment, and cultural narratives of motherhood. Hannah hopes this work will contribute toward building a more intersectional understanding of postpartum experiences and mapping future directions and nodes of inquiry for mental health work in the fourth trimester.
Joseph Newlin | Division III Project
Make Shift Coffee House: Creating Shared Understanding Across Political Divides
Joseph Newlin partnered with Make Shift Coffee House to host a community event in Lewiston, ME that aims to build bridges across political divides through food, music, and face-to-face conversation. Through intergroup dialogue and culinary diplomacy, he brought community members across the political spectrum together at the table to discuss civic issues in a guided format with the purpose of listening to and understanding one another across potentially vast differences.
Jules Petersen | Division III Project
Facilitators Weaving
Jules Petersen created a three-day residency at Hampshire College for students interested in the art of group facilitation. Participants shared their practices and learned from each other's skills and experiences leading effective meetings and workshops. The residency focused on the dynamics of the group learning process, communication design, and the powerful potential of collaboration to produce creative space-making and healthy dialogue.
Mercedes Loving-Manley | Division III Project
City Limits: Black queer & trans life in Boston, MA
In City Limits, a photo & video series, Mercedes Loving-Manley is interviewing queer, trans, and gender non-conforming people of color about their lived experiences of surviving at these social intersections in Boston, MA. In addition to these interviews, she is researching Black femme, queer, and trans existence throughout U.S. history, envisioning Black femme liberation by pinpointing underlying themes and methods of survival and resistance. Mercedes hopes the narrative she crafts will serve as an archive by and for Black queer communities in Boston, and that it will be used as a resource for city policymakers to provide safer communities.
Moira Tan | Division III Research
Litigation and Legislation: State Responses to the Overturning of Roe v. Wade (1973)
Moira Tan investigated abortion laws within the United States and the various levels of access to abortion experienced by people throughout the country. In partnership with the National Network of Abortion Funds, Moira led a Heart to Heart Abortion dialogue on campus, opening space to challenge myths and assumptions and learn facts about abortion access. As a New York State Political Intern at the National Institute of Reproductive Health, Moira also explored the possibility of a post-Roe v. Wade political landscape and its impact.
Nadia Issa | Division III Research
To' Iban Eshu: Spiritual Reparations in Regla de Ocha-Ifá and other Black Caribbean Diasporic Traditions
Nadia Issa produced auto-ethnographic work at the intersections of African-diasporic spiritual and religious traditions, reparations theory, dance, and music. From their extensive research in Cuba on the religion of Regla de Ocha-Ifá, they worked to expand reparation politics to make a case for spiritual reparations. They hope to highlight the ways in which Black spirituality and religions have been targeted and suppressed, and the historical violences that practitioners confront within the Black Caribbean Diaspora. They shared their findings through a performance incorporating dance and music from Yoruba traditions.
Quinn Davis and Aidn James | Collaborative Division III Project
Intimacy in Motion
Quinn Davis and Aidn James co-created a multidisciplinary arts Division III project, including a series of collaborative learning spaces culminating in a performance, Intimacy in Motion. They worked to honor the unique voices of their creative ensemble, while creating a community that sees individuals as part of a collective. They investigated the conditions that allow people to create their own intentional communities, moving at the speed of trust to ensure that all members are valued, and ultimately celebrating their shared learning process through reflection and performance.
1