EMT and Artist Andrew Sapini 17F's Div III Art Show Focused on the History of the Emergency Medical Service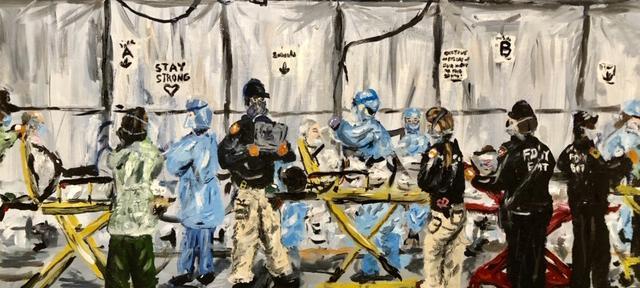 Recent graduate Andrew Sapini, who is currently completing nursing school, created an art show focused on the history of the Emergency Medical Service for their Div III.
As Andrew Sapini 17F began to map out their Div III project, the recent graduate was looking for ways to combine their passions for art and history. When they joined the student-run Hampshire College Emergency Medical Service (HCEMS) in the spring of their second year, they found the connection through working as an EMT.  We sat down [virtually] with Sapini to learn about their Div III project—an art show focused on the history of the EMS—and their plans for completing nursing school and potentially becoming a paramedic.
Tell us a little about yourself. Where are you from? What attracted you to Hampshire?
I'm from Brooklyn, New York. I graduated from LaGuardia High School, the Fame school, where I studied visual art. I wanted a progressive, small liberal arts college, and during my search, I had the opportunity to spend the night in a Hampshire dorm with a student who had recently graduated from LaGuardia. On campus with her, I made friends right away while playing games at the Bridge and hanging out in the Dakin dorm. Experiencing this amazing community made me want to attend. I also liked the idea of no grades and no required classes. I felt different, and I knew I could fit in at Hampshire.
Can you talk a little about your Div I and II experience and journey to your Div III. Were you surprised at all by the journey?
I went into Div I with few ideas about what I wanted to do when I graduated. I have a passion for history and thought I would be an educator. I envisioned myself dressing up in period costumes to get the students interested. I wanted to combine my love of history and art, which is not art history, as I've had to clarify many times. When asked what a potential senior project could be, I suggested making paintings of some obscure historical subject, but I just didn't know what subject.
Throughout Div II, I took various classes in anthropology, social justice, and, of course, visual art. In the spring of my second year, I took an EMT course in order to join the student-run HCEMS. I would never have dreamed of actually being into medicine, yet I absolutely loved the class. I loved it so much, I shifted my focus to more pre-med classes during my third year so that I could go into a nursing program after college. I have since been an EMT in Massachusetts and New York City for two years.
The one thing that remained constant throughout my time in Hampshire was that every semester I made sure to take at least one art-related class. Deciding I wanted to go into nursing basically right before my last year in college meant that I had a lot of catching up to do, but I have no regrets. I'm so thankful I was able to get such a wide range of experiences in college and truly be able to explore every option. No majors or required classes meant that I could figure out my own direction.
Please tell us a little about your Div III project (both as a process and a product).
For my Div III, I combined all three passions by painting the history of the emergency medical service. I made nine paintings of key scenes that represent major changes in EMS, from its beginnings as a horse-drawn ambulance rescuing soldiers to the advanced life support of today. I wanted to show how far we have come, but also how far we still have to go in dealing with problems like mental health impacts among responders and systemic racism in the emergency medical system.
My paintings were often influenced by my own experiences as an EMT, including painting the inside of a COVID-19 triage tent in Brooklyn that was based on my memory of that difficult time in April of 2020. I displayed the paintings and the history behind each one in a gallery opening.
Who was on your committee? Were there other faculty, programs, or resources you also found helpful during the Div III process?
My committee members were Cynthia Gill, associate professor of physiology, who does natural sciences and public health, and Serena Himmelfarb, Five College visiting assistant professor of art. They were both extremely helpful and gave me a lot of advice during the process. The Art Barn is where I worked on my paintings. Not only did I have access to my own small studio and all the art supplies and equipment resources in there, I also had access to the great community of artists that hang out in the Art Barn, eager to provide any support they can.
What's been your favorite part of the Div III process or biggest moment of growth and learning?
Watching how well it all came together in the final gallery show. Even though I had never met my two gallery mates, and our shows were very different, our themes meshed. It was a thrill to have the opening with friends and family attending. Since my first year, this had been my goal, and I was finally able to accomplish it. I was so proud of my artwork, and everyone was saying such nice things about it. The show was the culmination of all my years at Hampshire. I was Div-free on the same day as the opening and was able to ring the bell in the afternoon. It was such a wonderful feeling!
What are your plans / hopes / aspirations for after Hampshire?
Thanks to remote learning, while I was still at Hampshire, I was able to take nine prerequisite classes at other colleges for acceptance to the accelerated nursing program. When I complete that, I will have a second bachelor's degree and be a registered nurse. In the meantime, I'll continue to work as an EMT. If NYC's mental health response team takes off, I would love to work with them as a paramedic.
Describe Hampshire in a few words.
Distinctive. Quirky. Interdisciplinary.
Paintings from Sapini's Div III pictured below.
1