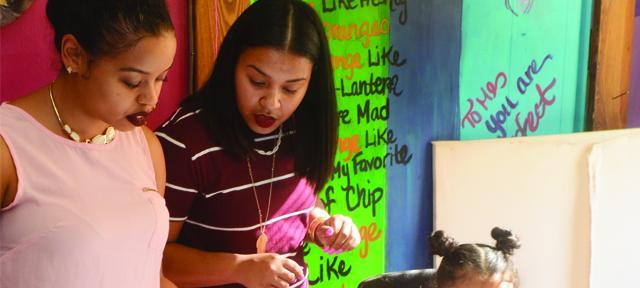 I found Zaily Garcia sitting in the art room sketching on a small piece of canvas. She smiled when I came in. I handed her the envelope with her name on it without saying a word. Trying to read my face, she opened it, let out a joyful scream and then a laugh, her eyes now getting shiny with tears. "I'm crying," she said, "because I can say I have you behind me. I can say I have the Care Center behind me." This was the letter Zaily had been waiting for, announcing she had won the Selenia Vazquez Scholarship. It's a monetary award for our clients who are actively pursuing a college degree.
I'm a transition counselor here at the Care Center, in Holyoke. We run an alternative education program to prepare — and empower — young mothers to continue their education and create a successful future for themselves and their families. Zaily is a hopeful, brilliant, and previously untapped young mind who found a second chance with us. She's a photography major working through her associate's degree at Holyoke Community College and has her eyes on Mount Holyoke College. Zaily and I put in the effort and the hours to get her enrolled in HCC. It's in moments like these — as I watched her wave the letter in the air — I'm reminded how important our work at the Care Center is.
Not so long ago I had waited for a letter of my own, which would affect my aspirations for college and career. I was in high school, in Philadelphia, and had applied to Hampshire through the James Baldwin Scholarship Program. As you probably know, it's directed toward students from underserved communities who have excellent leadership potential, and provides an extremely generous financial-aid package. No more than 12 students a year are chosen as Baldwin Scholars, and I remember thinking my chances were slim.
I'll never forget the day: In a small pile of mail on the living room table was the envelope labeled "Hampshire College." My heart sank. The envelope was slim. I steeled myself for rejection, and read.
"Congratulations . . ." I had to cover my mouth to keep from screaming inside the house. I opted to run outside, and on the sidewalk I waved the acceptance letter in the air at passing cars. People honked at my letter and me. I had been accepted to a school that saw as much potential in me as I did.
I was thinking about that as I left the art room and walked down the hall to my office. I was thinking about how privileged I am to work with young women like Zaily who haven't stopped dreaming just because they're mothers. I see every day how motherhood challenges them to dream harder, how they deserve their own renaissance.
From the Fall 2016 issue of Hampshire's Non Satis Scire magazine.
1