Experimenting at Hampshire Summer Academic Programs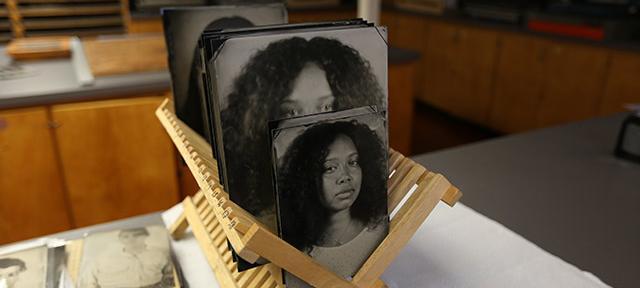 In June, dozens of students arrived on campus to dive into study areas they're passionate about with alums and other faculty at the forefront of their fields.
The Creative Media Institute; the Food, Farm, and Sustainability Institute; the Institute for Curatorial Practice; the Institute for Transforming Social Justice; and TESOL teacher training gave participants opportunities to engage in real-world situations and deep conversations with practitioners pushing the boundaries of their disciplines while getting a grounding in the theoretical foundations of their work.
"One of the reasons I was drawn to the Creative Media Institute is that I'm entering my Div III," says Connor Doyle 12F. "I want to make a narrative film, and I thought the CMI would give me a better sense of what I had to do and should do for that. I knew a larger part of the program involved interactions with filmmakers, photographers, and video artists. I wanted to talk with them about their experiences, and possibly get some advice for when I leave Hampshire and get out into the world."
Filmmaker Ken Burns 71F, National Magazine Award winning journalist Jeff Sharlet 90F, photographers Keliy Anderson-Staley 96F and Elaine Mayes (a Hampshire founding faculty member) were among the resources CMI students could turn to. Workshops filled students' mornings, while fieldwork in the afternoon brought them to such locations as sculptor Kamil Peters 06F's Holyoke studio for documentary filmmaking.   
Institute for Curatorial Practice students visited museums throughout the Five Colleges and New York City, learning leading-edge approaches to curation before creating their own digital exhibits.
At Food, Farm, and Sustainability, faculty explained the rigors of managing a farm (and students participated in the hard work), taught the science and art behind fermentation, and introduced the class to the farmers and food makers throughout the region who put sustainable ideals into practice.
"I get to work with the animals early in the day, and then I get to really learn how to do things, which I feel so excited about," says Lucia Nuechter, who during the academic year is a student at the University of Victoria in British Columbia. "I'm learning how to make kimchi, cheese, and yogurt. It's great that we're getting to do it and not just reading about it, because it inspires us to go home and try it ourselves. They teach that experimenting is a good thing, and even if it's not perfect, you keep trying, and get closer, and find out what works for you."
Transforming Social Justice connects students with activists, academics, and others who have worked for progressive change in areas as diverse as immigration rights, prisoner advocacy, and women's reproductive empowerment.
"If you have enough people being impacted in a negative way, there has to be some kind of push back we can make, where we have to take a stand," Tina Reynolds, cofounder of Women On the Rise Telling HerStory (WORTH), told the class during a week led by Philosophy Professor and Civil Liberties and Public Policy Program Director Marlene Gerber Fried.
In the TESOL course, instructor Donna Brinton and teaching assistant Stephanie Brown 10F sought to give students not only the background needed to teach English throughout the world, but also the means to build their careers with the certification.
"There are hundreds of TESOL programs around the country, but this is different because of the focus on what you can do with the certification after you're done with the class," says student Elizabeth Wright 11F. "It's very personalized. Both the professor and the TA took time to get to know us, and help us depending on what we want out of the program."
In addition to the five undergraduate programs, two programs geared for high school students debuted this summer. Creative Media Institute—Viewfinders and Art and Activism joined the long-running Hampshire College Summer Studies in Mathematics. The programs, says CMI Program Director Andrew Hart, provide "a way for them to see what it's like to be on campus, get a sense of Hampshire's distinct culture, and experience the kinds of approaches to curriculum they might find if they came here full time."
1