Hampshire Alum Kathryn L. Tucker 77F is Shaping the Future of Psychedelic Medicine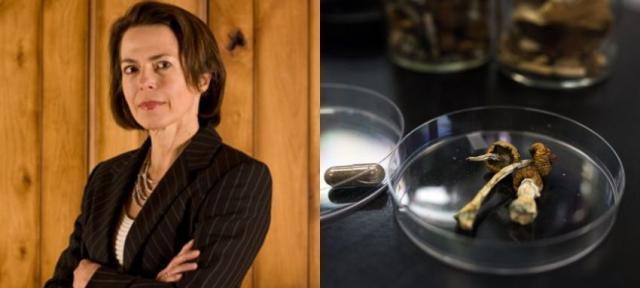 Kathryn L. Tucker 77F is an attorney and professor who advocates for the use of psilocybin in medical practices to improve and expand care for seriously ill and dying patients. 
Tucker is currently involved in a legal effort seeking to compel the United States Drug Enforcement Administration to open access to psilocybin under "Right to Try" laws (RTT). This effort, which was featured in Scientific American, if successful, would benefit people with life-threatening illnesses or conditions who seek relief through therapy with psilocybin, MDMA, or other Schedule I drugs currently being investigated in clinical trials. 
When asked about this case in a July interview Tucker said, "our clients face the reality of inexorably advancing terminal illness and are burdened with debilitating anxiety and depression, which could be relieved with access to this drug. There is real urgency; we are pressing forward as fast we can on every front we can to get them relief, in the face of agency obstruction of the law of the land."
The movement to make psilocybin available to patients is picking up significant momentum. In addition to Tucker's trailblazing legal efforts, Senators Cory Booker (D-NJ) and Rand Paul (R-KY) have introduced legislation that would give patients with serious illness access to Schedule I drugs under RTT laws. These drugs include marijuana and psychedelics like psilocybin and MDMA. Psychedelic therapies could be legal within two years according to a July article from The Intercept, but much still remains to be determined and the fight for patients to have access to this potentially life saving treatment is far from over.
Tucker serves as special counsel at Emerge Law Group, where she co-chairs the Psychedelic Practice Group. Tucker is a founding member of the Psychedelic Bar Association and co-chairs its Litigation and Advocacy Committee, as well as serving as liaison to the American Bar Association. She is also a founding member of the Initiative on Psychedelics and Healing of the Global Wellness Institute.  
Tucker has been featured on Crossfire, the PBS NewsHour, Larry King and CNN. Her work has been profiled in the National Law Journal, American Lawyer, Journal of the American Bar Association, Legal Times, and the magazines George, Vogue, Time, People and Health, among others.
Portrait courtesy Kathryn L. Tucker, psilocybin photo by James MacDonald/Bloomberg via Getty Images.