Hampshire Alum Opens Store of Handmade Upcycled Goods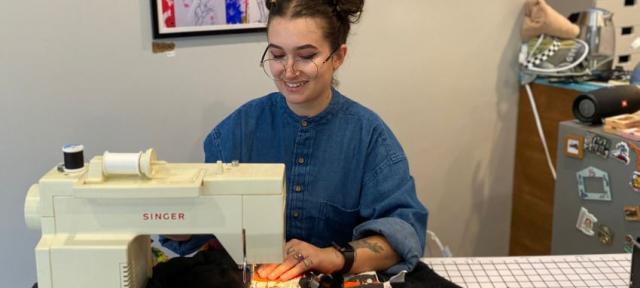 In April, Hampshire alum Elena Coronado-Jensen 11F and husband Gerson opened their first brick and mortar storefront in Chicago. Together, they create and sell handmade, repurposed, and recycled clothing, art, accessories, and more.
Coronado-Jensen and her husband have long dreamed of opening their own business. After years of working restaurant jobs and selling their handmade items online on the side, they ultimately took the plunge and opened a brick and mortar storefront this spring. 
Their shop, So Happy You're Here, is rooted in reimagining everyday objects. Since she was a kid, Coronado-Jensen has been refashioning things—making something new out of the old. "I had always taken my dad's t-shirts and made them into dresses for me, that's what I wore on my first day of Hampshire," she said, "I started selling my hand painted garments as well as zines, illustrations, and weird jewelry made out of tiny crab shells and stuff like that." Now, with her storefront, she and Gerson employ that same creative energy. They make hand poured candles in recycled jars, lamps out of recycled bottles, home decor and jewelry out of found items and reclaimed wood, soaps, and upcycled clothes.
While at Hampshire, Coronado-Jensen's focus was in theater direction, but she explored a variety of subjects and art media ranging from dance to sculpture to poetry. For her Division III she wrote, directed, and staged a site-specific performance on the second floor of "Greenwich Donut 1,"  one of Hampshire's on-campus residences (or  "mods") that are arranged in a circular form, or "donut." 
When asked about how her experience at the College had influenced her work, Coronado-Jensen replied, "It's not a huge campus where you can go to a new building you've never been in before. Everything has multiple purposes: play rehearsals take place in a classroom, which is also where a visiting artist does a performance, and a large class holds its sessions. It's a beautiful way to constantly create and recreate from what exists."
It was actually here, as a student, where she first envisioned creating a community-oriented event space where people of all different interests and backgrounds could come together to share, explore, and connect. What she envisioned years ago has come true today, the shop is "a concrete space for people to come and share ideas," said Coronado-Jensen. "I love it when strangers come in and talk for an hour, that's how we build relationships and sustain our community." 
"Honestly, I feel like small business ownership is a real-world application of Hampshire, in that it is self-guided, but there are systems that you have to work within," said Coronado-Jensen. "Yes, you can study whatever you want, but you still have to take at least one class in each discipline. Yes, you can sell whatever you want, but you need to go downtown and get your business license. It's also like Hampshire in that you have to seek out the support that you want. If you want to succeed, you have to be the one to build relationships, do events, and meet people."
So Happy You're Here is located at 3331 S. Halsted Street in Bridgeport, Chicago.
1