Hampshire Alum Orisanmi Burton 99F Named 2021 Freedom Scholar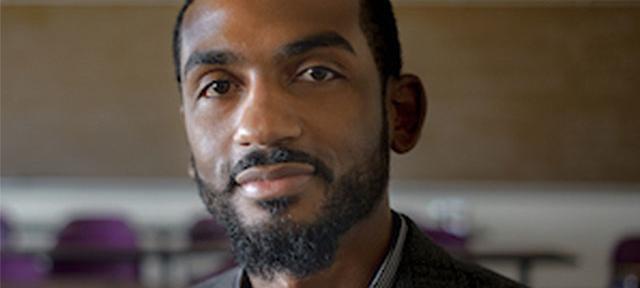 The annual award from Marguerite Casey Foundation and Group Health Foundation provides "unrestricted support to emerging leaders in academia whose research can provide critical insight to social justice leaders and whose ideas encourage all of us to imagine how we can radically improve our democracy, economy and society." Abolitionist archivist Orisanmi Burton 99F is one of six scholars selected to receive $250,000 each.
Orisanmi Burton 99F, assistant professor of anthropology at American University, is a scholar of social anthropology, Black studies, and prisons and policing. His current research focuses on the wave of prison rebellions across the United States in 1970, and he is finalizing his first book Tip of the Spear: The Long Attica Rebellion and Prison Pacification in the Empire State.

Burton will be using the award to develop his research on Dhoruba al-Mujahid bin Wahad, a Black Panther Party and Black Liberation Army member. He will also be researching what he calls "Black Masculine care work," both inside and beyond prisons. He recently published an article titled "Captivity, Kinship, and Black Masculine Care Work under Domestic Warfare," which subverts the narrative that Black men in prison are always hypermasculine and hyper violent, instead showing how they "establish deep bonds of kinship, through various kinds of tenderness and care in ways that often go unacknowledged."

Burton recently gave a presentation to the Hampshire community, "Unlocking the Archives of Carceral War," sponsored by the Cultural Center and the Office for Institutional Diversity & Inclusion. After graduating from Hampshire, Burton earned a master's degree in library and information science with a concentration in archival studies from Long Island University, and a PhD from the University of North Carolina at Chapel Hill. In 2020–21, he was an Evelyn Green Davis Fellow at the Harvard Radcliffe Institute.

The Freedom Scholars Award, established in 2020, awards those who focus on "cutting-edge areas of scholarship as varied as feminist prison abolition, alternatives to movement capture, Indigenous erasure, and establishing a new social contract that addresses the history of white supremacy in the U.S. […] Freedom Scholars awards represent a commitment to scholarship relevant to movements led by Black and Indigenous people, migrants and queer people, poor people and people of color. The awards also recognize the role that scholars play in cultivating and nurturing movements for justice and freedom. "

Read about the Freedom Scholars Award.
Read a recent interview with Burton and American University about the award.
1