Hampshire Alums D'Aloia and Cantwell Return to Talk Business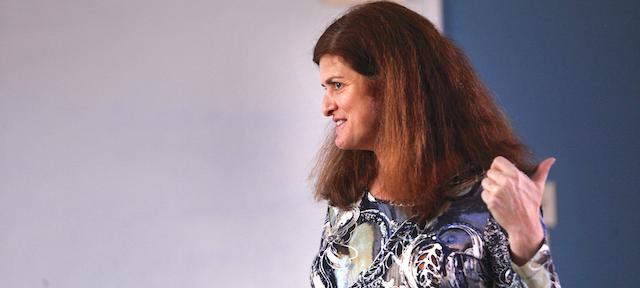 Hampshire College alum Liz D'Aloia had a simple message for students about entrepreneurship: "Anything that gets your blood racing is probably worth doing." Dick Cantwell, also an alum, said that "to think you don't need a brand for your product is to think a person doesn't need a personality." 
D'Aloia and Cantwell recently returned to Hampshire, on separate days, to speak to a class led by Bret Golann 71F, coordinator of the College's Entrepreneurship Program. Cantwell 74F is one of the most prominent voices in the craft-beer movement, an author, and cofounder of the Elysian Brewing Company. D'Aloia 83F, a lawyer, is the founder of HR Virtuoso, which creates mobile recruiting tools.
Between high school and college, in Australia, D'Aloia learned to drive a tractor-trailer, a skill that would one day come in handy. After earning her BA from Hampshire in three years, D'Aloia received her JD from Brooklyn Law School. Building on a career spanning management positions in the trucking industry, the mortgage industry, and retail, in 2013 she decided to launch a venture of her own.
The company was born from her observation that the trucking industry's employment process depended heavily on either paper applications or desktop computers that do not fit the lifestyles of potential employees—especially truckers and others who don't sit at desks. In a world where the use of smartphones has been booming, D'Aloia saw an opportunity.
Around this time, D'Aloia was introduced to Zeke Nierenburg 09F, who helped her develop an early prototype of the Virtuoso software. "Next thing I knew, I had a product on my phone that I could show people," she said. "I utilized my network of contacts and said, 'Hey, look what I've got here!' Damned if someone from Motel 6 didn't get back to me and ask for a demo."
D'Aloia stressed the importance of building a large network, not only for finding partners and customers, but also for advice and perspective on overcoming challenges. Today, HR Virtuoso offers its mobile recruitment for small- to medium-sized businesses, with customized application forms that work on any mobile device and on desktops. Among her clients are the Performance Search Group, Four Seasons Assisted Living, and the aforementioned Motel 6.
Students in Golann's class, "Innovation Strategies for Entrepreneurial Impact," also heard from Dick Cantwell, at an interesting time in his career. Cantwell is serving as quality ambassador for the Brewers Association and contemplating his next move after an unhappy divorce from Elysian Brewing Company. He founded the business with two partners in 1996 and was its primary marketer and head brewer until 2015, when Anheuser Busch bought the business.
The sale came about because Cantwell was outvoted 2-1 by his partners and led to his voluntary exit from the company he helped found. Cantwell used his acrimonious departure as a teaching point. Had Elysian had a mission statement that outlined agreed-upon core values, he told the class, the schism over the acquisition might not have taken place.
"Core values define your mission — when you have a series of phrases and statements that you and your partners have agreed upon, you then have a framework you can bounce every other challenge and possibility off," he said. "It's a blueprint for your future without knowing what you're going to encounter."
When Anheuser Busch approached Cantwell with the notion to buy, his initial reaction was to say no, but he knew he had to tell his partners about it. "When I reported the offer to them, they were off to the races," he said. "That's the kind of vulnerability we had, because we didn't have core values and beliefs to rely on."
Cantwell also stressed the importance of marketing a product in increasingly crowded industries. "When I graduated from Hampshire, there were about forty breweries in this country; now there are forty-eight hundred," he said. "It's important, in this age of necessity of differentiation, to express the personality of a company — everything you do is an expression of your sensibilities."
Golan was grateful to both Cantwell and D'Aloia for the insights they brought to his students. "They exemplify primary ways entrepreneurs find opportunity in the marketplace. For Liz, it was recognizing the customers' 'pain points' — the major challenge of recruiting excellent employees in service-based businesses — and then developing innovative solutions to respond to the need," he said. "For Dick, it was his innovative approach to developing better products that attracted customers in a very competitive marketplace. Both found better ways to attract customers."
Hampshire's Entrepreneurship Program regularly invites guests to talk to students. On Wednesday, November 9, local food entrepreneur and Hampshire alum Molly Merrett will speak in Franklin Patterson Hall Room 104 at 2 p.m. Merrett is the chef and owner of Beets & Barley, a vegetarian catering service. After running her own farm, Merrett began her business with the goals to create delicious food and to strengthen the area's food system by using local, organic ingredients. For more information about Merrett's talk, e-mail Bret Golann.
More information on the Entrepreneurship Program is available here.  
Follow Hampshire Entrepreneurship and its upcoming events on Facebook.
1