Hampshire Alum's Music Documentary Embraced on Global Festival Circuit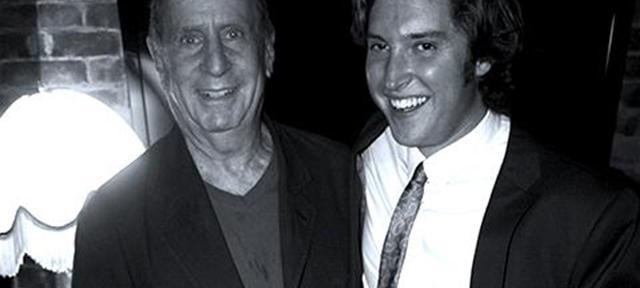 As Hampshire alum Brendan Toller has premiered his rock music documentary across the global festival circuit this year, it's been received with consistent raves from film critics and arts media. Variety magazine named Danny Says a SXSW Breakout Movie, calling it "a highly entertaining screen memoir" that "proves so rewarding it should have little trouble attracting sales." The film was a Rolling Stone magazine Must-See Movie of SXSW; the Austin Chronicle dubbed it "practically required viewing for all music aficionados."
Amherst Cinema will hold a special sneak peek screening on Wednesday, October 14, along with a Q&A with Toller and Fields moderated by Byron Coley 74F and Matt Krefting 99F. And after-party at the High Horse will follow
The film has been accepted to festivals from Australia to Greece and across the US. This month it shows in England at the BFI London Film Festival, then next month screens in New York City.
While working on his Division III, I Need That Record, the young filmmaker became acquainted with Danny Fields, a whirlwind in the music industry. "We did an interview that ended up on the cutting-room floor, but we became really close," Toller says. "He lived one of the most fascinating lives of the latter twentieth century. I approached him about doing a documentary and miraculously he said yes."
Fields, a music journalist, author, and band manager, helped guide the careers of such alternative bands as the Doors, the Ramones, the MC5, Iggy and the Stooges, the Velvet Underground, and the Modern Lovers.
For the next four years, Toller says, he worked "all these odd jobs to make the art happen. I knew the story had to be told, I knew the appeal. I'm glad it's starting to translate to a wide audience."
Toller says he started the film with a limited collection—a camera, a tripod, a couple of microphones, and the production skills he learned at Hampshire. "I set out to make this film when the economy was tanking," he says. "Hampshire is really for the entrepreneurial, people who want to do it for themselves and make a change in the world."
Danny Fields went to UPenn at age 15 and eventually to Harvard Law before dropping out, says Toller. As a journalist, Fields published John Lennon's famous "More popular than Jesus" remark, which Toller says effectively ended the Beatles' touring career. He was instrumental in bringing counterculture artists into the mainstream. There wasn't a place for these artists before Fields came on the scene and put them in a context that attracted press, Toller says.
"Fields really pushed the limits of what the mainstream could be," he says. "I wish more Harvard dropouts would go into music instead of app development or hedge-fund management—we'd have a much cooler world."
Toller is now overseeing the worldwide release of Danny Says, hoping for a limited theatrical run followed by a home media release, with a coinciding soundtrack appropriately stocked with rarities from Fields's musical connections. He also says he's thinking about his next long-form film, with the theme of music likely at its base.
By John Courtmanche
Links and References
Danny Says screening Nov. 24, as part of the Stranger Than Fiction Series, at the IFC Center, 323 Sixth Ave., New York City.
Watch excerpts from the film on Brendan Toller's Vimeo Page

Brendan Toller IMDB
Official Movie Website

Review, Variety magazine

New York Times article
1