Hampshire College Alum and Somatic Movement Therapist Martha Eddy Featured in New York Times on 'Slowing Down to Feel'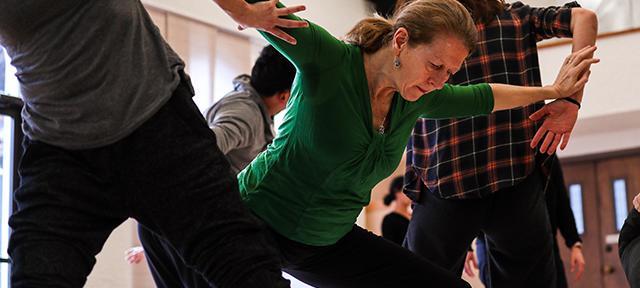 The article examines a variety of somatic practices individuals can use during the pandemic to improve mental and physical health. 
Hampshire College alum and well-known somatic movement therapist Martha Eddy 74S was one of several practitioners interviewed about the ways somatic practices can help individuals better connect with their bodies during the pandemic, a time when movement can be limited. Somatic practices focus on internal attention and awareness to movement and the body.
"We're talking about allowing the living body to inform behavior," Eddy said. "But then how do you do that? It's by using your proprioception" — the ability to feel the body in space — "and your kinesthetic awareness." … "I call it slowing down to feel," she said. "Related to that is going into the breath, and related to that is releasing tension. Sometimes I separate those two and sometimes I keep them together: releasing tension and breathing."
Eddy is a registered somatic movement therapist and certified movement analyst with a doctorate in movement science. She serves as the Geraldine Ferraro Fellow of Social Justice through Movement for Marymount Manhattan College, and held previous positions with New York University, Columbia University, and Princeton.
She and Carol Swann co-founded Moving On Center in Oakland in 1994 in order to bridge somatic awareness with social change. She developed Moving For Life in 1999 to help women with breast cancer as part of Moving On Center's community outreach. She then established Moving For Life as its own non-profit organization providing free dance and wellness programming for older adults and people of any age affected by cancer.
She published Mindful Movement: The Evolution of the Somatic Arts and Conscious Action in 2016. Her new book, A Dynamic Embodiment Approach to the Sun Salutation is a collaboration with Shakti Smith, due out in the fall.
BodyMind Dancing was also featured in the February 2021 issue of Dance Magazine and Eddy's "embodied perspective" was featured in Dance Magazine last year. 
Learn more about Dr. Martha Eddy.
Fun Fact: Eddy taught BodyMind Dancing for Hampshire's January Term circa 1990.
 
1