Hampshire College Alum Brittany M. Williams to Be an NAEd/Spencer Postdoctoral Fellow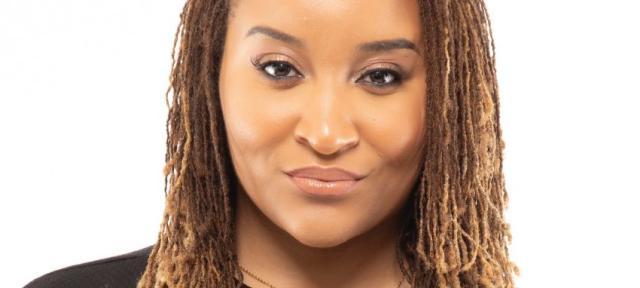 Brittany "Brit" M. Williams 08F has been selected as a NAEd/Spencer Postdoctoral Fellow by the National Academy of Education. The program encourages outstanding researchers to pursue critical projects in education.
Brit Williams is one of 25—from a pool of more than 250 applicants—to be honored with a fellowship and a $70,000 award. The grant will support Williams's research project, "Beyond 'Know Your Status': Investigating HIV/AIDS in Conversation with Black College Women."
We talked with Williams about her time at Hampshire, the fellowship, and her current research.
What did you study at Hampshire? What was your Div III?
I took courses in Africana studies, media studies, and prelaw. My Division III was entitled "Turning Tables: Justice for All, Just Not for Us," and I used the rapper T.I.'s Paper Trail album to investigate the framing of Blackness and Black people vis-à-vis the U.S. "justice system." I was especially interested in how the album educated listeners about the biases and gaps in the legal system and how Black people are positioned to have to consider and (re)negotiate those things due most to over- and hyper-policing. My interests have always been intersectional, and this project enabled me to bridge my love of Black studies, law, and education. 
Did your experience here at Hampshire influence your current work? If so, how?
I'm not sure one can engage Hampshire to the depth that I did and have it not influence their work. Most of what I do is rooted in Black studies, although I've decided to plant myself in education to do that work. My time at Hampshire gave me the foundation not only to take my interdisciplinary flag everywhere with me but also to proudly wave it—even when people tell me it's detrimental to my success. My Hampshire approach to the world continues: I refuse to allow people to place me in a box, so I do cross and multidisciplinary work. My time at Hampshire involved critically examining systems, structures, and power. That's exactly what I do now through my current areas of study.  
"My time at Hampshire gave me the foundation not only to take my interdisciplinary flag everywhere with me but also to proudly wave it — even when people tell me it's detrimental to my success."Brittany M. Williams 08F
Tell us about your path to becoming an NAEd/Spencer Postdoctoral Fellow and the project that will be supported through the award.
The program requires an application process inclusive of a project proposal and recommendations. I had applied earlier and received mixed constructive feedback. I decided to reapply because I knew the project was important and its significance would be bolstered by the COVID-19 pandemic. 
The project uses Sista Circle Methodology, a culturally relevant methodological approach, to explore Black college women's attitudes, skills, and knowledge on the HIV/AIDS crisis in Metro Atlanta. I'll specifically explore their perspectives on HIV/AIDS health and education policies and their awareness of available biomedical prevention treatments such as pre-exposure prophylaxis (PrEP) and post-exposure prophylaxis (PEP). The fellowship comes with a $70,000 stipend intended for salary support, research, and mentorship opportunities. I'll use it to return to Metro Atlanta to facilitate the study.
Lastly, is there anything else you'd like to share with our students and alums?
I'm currently living in Burlington, Vermont, which I describe to people as a grown-up Amherst, Massachusetts. And by grown-up, I simply mean bigger. I'm drawn to places, people, and things that remind me of my time at Hampshire, so it seems natural that I ended up here.
Originally from Southwest Atlanta, Brit Williams calls herself a "proud product" of the area's public schools. She holds a bachelor's degree from Hampshire College and a master's from Teachers College Columbia University. She earned her Ph.D. in college student affairs administration from the University of Georgia, Athens. 
Williams has been featured in and by Inside Higher Education, the White House Initiative on HBCUs, the U.S. Department of Health and Human Services, AIDS United, National Public Radio, the National Black Women's Health Imperative, One Day Studio, the National Minority AIDS Council, and a host of academic journals.
1