Hampshire College Alum Dr. Justin Xavier Moore Awarded Five-Year NIH Grant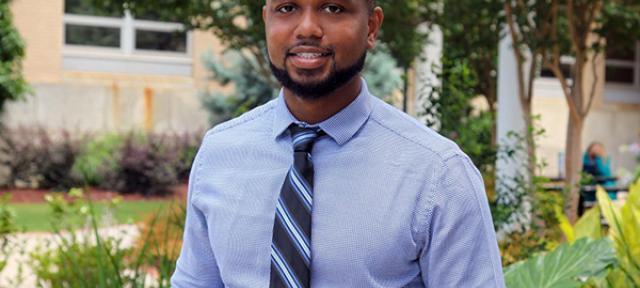 Moore will use the funds for research on geographic and racial disparities in breast cancer diagnoses and treatment.
Epidemiologist and Hampshire College alum Dr. Justin Xavier Moore 07F was awarded a five-year grant from the National Institutes of Health (NIH) to support his research on geographic and racial disparities in mammography screening and care. The grant from the NIH's National Institute on Minority Health and Health Disparities will continue through 2025 and offers up to $646,332 in research funding.
Moore's research examines the intersections between race—including effects of racism—as well as social and built environments as key factors on various health outcomes such as cancer and infectious diseases.
In the United States, breast cancer is one of the leading causes of death among all women, but Black and Latinx/Hispanic women have up to a 50% increased likelihood of being diagnosed with late-stage breast cancer and more aggressive tumors. Furthermore, poverty is associated with a 6% increased odds of late-stage diagnosis.
Moore's work combines geospatial data analysis, biostatistics, and community-based participatory research to examine several "hot spots" for breast cancer mortality within the U.S. According to Moore, one of the main goals of the work is "highlighting areas where targeted breast cancer prevention strategies are needed for mitigation of racial and geographic disparities."
To effectively address mitigation and prevention, Moore's research also involves partnering with local community organizations to listen to community concerns and respond with targeted prevention strategies that reflect each community and their needs. This model can also act to rebuild trust between predominantly Black Indigenous and People of Color (BIPOC) communities and the medical field.
"When you think about Henrietta Lacks, the Tuskegee experiments, and about Jim Crow in the South, and how that persisted for so long—it causes a sense of distress in these communities because both the healthcare system and the U.S. at large have been really, really untrustworthy towards minority groups," Moore says. "The barriers are more than just about having a medical facility close by, it's about breaking down those barriers between the care providers and the people they serve."

The NIH grant is one of three research projects Moore is currently working on. He is also a co-investigator on two other cancer-related and community-based participatory research projects led by Drs. Martha Tingen and Marlo Vernon.
Moore attended Hampshire College through the 21st Century Atlanta Scholars program, an initiative created by the late superintendent of Atlanta Public Schools Dr. Beverly Hall. While at Hampshire, Moore studied pre-med and neuroscience.
Moore's Division III titled "Mental Illnesses: a close look into the human mind, stories told, and recovery" involved researching complementary and alternative approaches to treating mental illness. While completing his Master of Public Health, Moore recognized much of the graduate-level work as similar to his Div III process. "I didn't realize it at the time, but I was already doing this kind of research….and when I got to graduate school I thought, wow, in a way this feels easy because I got all these skills at Hampshire."
Moore has both a Master of Public Health in epidemiology and Ph.D. in epidemiology from the University of Alabama at Birmingham. He currently works as an assistant professor in the Division of Epidemiology, Department of Population Health Sciences at Augusta University in Augusta, Georgia.