Hampshire College Alum Stephen Gardner 94F named CEO of Amtrak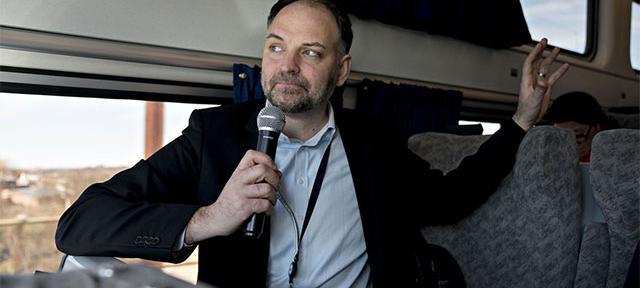 Amtrak has announced that Hampshire College alum Stephen Gardner 94F will become its chief executive officer later this month. Gardner has worked at Amtrak since 2009, and "has been responsible for efforts to expand state-supported service partnerships; increase Acela Express capacity; improve Northeast Corridor infrastructure; formulate policies to carry out Amtrak's strategic plan; and guide general development and planning activities."
In the fall, Congress passed the Bipartisan Infrastructure Deal, which gives Amtrak $22 billion in direct aid to repair and replace its trains and tracks, as well as access to $44 billion in grants. Gardner plans on using this investment to focus on on servicing customers, bringing passenger rail service to new cities, replacing aging rolling stock and advancing projects to address major choke points.
Prior to Amtrak, Gardner worked on Capitol Hill in Washington, D.C., for the Commerce, Science, and Transportation Subcommittee on Surface Transportation & Merchant Marine Infrastructure, Safety, and Security. In this capacity, he directed all legislative and oversight activities related to the safety, security, infrastructure, and operations of railroads, motor carriers, pipelines, and hazardous materials transportation, including overseeing all related federal agencies. Before that, Gardner served as Legislative Assistant for Transportation for Senator Tom Carper and Congressman Bob Clement.

While at Hampshire College, Gardner studied physics, acoustics, political science, and transportation. His Div III focused on his experience working at a local small trolley and railway museum. In 1994, he formed electronic band Chessie, named after the defunct Chesapeake and Ohio Railway, whose music explored "the way that railroads bisect the natural world with machinery." Their first album "Signal Series," released in 1998, was named that year's Best Dance and DJ Album by Amazon.com.

Read about Stephen Gardner's work at Amtrak in the Washington Post and the Wall Street Journal.
1