Hampshire College Student Awarded Prestigious Projects for Peace Grant for Program in Ghana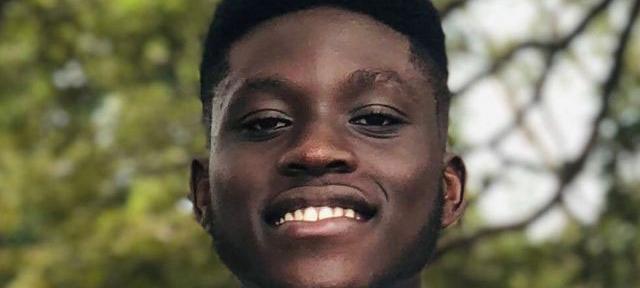 Rupert Tawiah-Quashie 22S is part of a team of students who have won a $10,000 Projects for Peace grant to implement "<Code_gh>," a training program that aims to give high school students in Accra, Ghana, an opportunity to excel within the tech space.
Hampshire student Rupert Tawiah-Quashie 22S created the ambitious project, called "<Code_gh>" in collaboration with Kevin Ntoni, a student at Middlebury College focusing on economics and math, and Nathaniel Wullar, a computer science and electrical and computer engineering student from Duke University. The team of students is working with a long list of advisors, field experts, and tutors to implement"<Code_gh>."
Projects for Peace is a global program at Middlebury College that "encourages young adults to develop innovative, community-centered, and scalable responses to the world's most pressing issues."
We recently spoke with Tawiah-Quashie about his experience with Projects for Peace, what inspired him to embark on this journey, and what drew him to Hampshire College.
What is "<Code_gh>"?

"<Code_gh>" is a training program that aims to give high school students in Accra a chance in the tech world. Our ultimate goal is to contribute to peace and sustainable development by providing participants with digital and technical skills (in the form of training and mentorship) and information on ways to subsequently leverage those skills for economic gains. We want to create an innovation hub that will contribute significantly to sustainable growth and ensure that the Ghanaian youth can safely and adequately explore the wide array of options available to them so that they can be in better positions to further promote peace.
Our priority is not necessarily to make participants job-ready by the end of the program, but rather to pique their interest, give insight into the possibilities, and leave them with a tangible network of reliable people to learn from. In doing so, it must be realized that we are not only contributing to future economic development, but also to the nullification of future impoverishment, hunger, lack of education, and climate-related issues. Successful execution of "<Code_gh>" is the first step in dealing with these issues in a proactive manner.

How did you first learn about the Projects for Peace grant, and what inspired you to apply?
Nathaniel Wullar and I had a conversation about his plan to organize a tech boot camp for high school students and presented his research and tentative proposal. Nathaniel and I went to the same high school in Ghana, and I resonated with the great disparity in access to resources to explore tech as a field. As international students in the United States, we observed the various initiatives by high schools, student organizations, and private corporations to expose students of middle school and high school [age], as well as underrepresented communities to tech careers. I immediately joined and we became a team.
We were brainstorming one evening with a common friend, Kevin, on logistics. He was fascinated by the project and quickly became an indispensable member of the team. In our research for funding opportunities, we came across the Davis Projects for Peace. Coincidentally, the main sponsor for the Projects for Peace Initiative was Middlebury College (Kevin's school). Given the big ties between sustainable development and peace, we put our heads together to apply for the program. We made a great team, and I attribute our success to this.
From its unique open curriculum... to Hampshire's special divisional system that shapes classes and projects to suit our future goals—it breeds visionary innovators and leaders.

Rupert Tawiah-Quashie 22S
What attracted you to Hampshire?

Like a bowl of salad, every little contributing factor to the making of Hampshire is what makes it astonishing to me. From its unique open curriculum that gives me the chance to benefit from the worlds of math, computer science, and philosophy to Hampshire's special divisional system that shapes classes and projects to suit our future goals—it breeds visionary innovators and leaders.

I chose Hampshire because its flexibility would allow me to explore my intellectual interests. By combining studies in mathematics and computer science philosophy, I will receive the instruction necessary for me to apply my knowledge of artificial intelligence (AI) and robotic technology to solve global automated challenges. Challenges that increase the risk of injury, loss of life, and reduce efficiency in all fields of work. Given the long-term negative impacts of hard labor jobs and repetitive tasks on human health, I want to dedicate my efforts to improving the working environment by developing AI systems and models that can effortlessly and efficiently carry out tasks that are currently perilous in the world. From power linemen to firefighters, I want to create systems that reduce physical input and increase intellectual input to make jobs much safer for workers, as I lost a relative on power line duty.

I love finding answers to questions that pertain to AI and machine learning. I believe that my love for AI coupled with my love of research and statistical analysis will make my experience at Hampshire splendid. I know that there is no other school that can meet my specific traits like Hampshire. I also admire the small class sizes, the ability to get to know most students on campus, and to have personal relationships with my professors. I believe through Hampshire, I will be a blessing to my Ghanaian community and the world, I will be able to share my values with a like-minded community of students, and my education will be a purposeful journey, not a race.
1