Hampshire College Student Dances for Parkinson's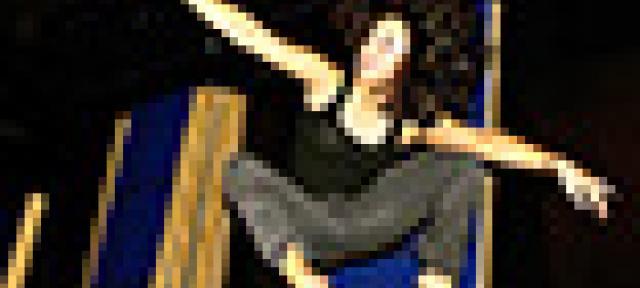 Miriam King applied to college knowing that she had two passions — neuroscience and dance — with not many schools where she could study both.
"I always knew I wanted to combine neuroscience research and dance," she said.
"And Hampshire was one of the only schools that would let me study two seemingly disparate fields."
King is working on a Division III (senior) project, entitled Movement as an Intervention for Neurodegenerative Disorders, which combines her passion for both scientific research and dance. She is focusing on movement for Parkinson's and Huntington's disease, and includes her own research with Dance for Parkinson's classes and her work with Huntington's patients. 
King's research was made possible by funding from the Foundation for Psychocultural Research-Hampshire College Program in Culture, Brain, and Development.
"One part of my Division III is a written component that reviews the current published literature on movement as an intervention for Parkinson's and Huntington's," she said.
King, Hampshire 11F, is also choreographing a production inspired by her internship with Dance for Parkinson's classes this past summer. "Fiber optic LED fabric is being used to create the dance costumes by my fellow Division III student Ayliffe Brown," she said. "I hope the use of fiber optic costumes will enhance audience understanding about the Dance for Parkinson's experience, in addition to my choreography and the dance itself."
King completed a Dance for PD® teacher training workshop at the Mark Morris Dance Group in Brooklyn, and helped facilitate Dance for Parkinson's classes in Newport, Rhode Island, and New London, Connecticut, led by Rachel Balaban.
She said the dance classes offer an engaging, creative, and safe environment where participants experience the support of their teachers and fellow class members.
"I was so inspired by the participants and the positive impact of dance that was evident in these classes," she said. "These classes allow them to focus on what they can do with their bodies rather than what's difficult. Dance for Parkinson's allows people to creatively express themselves through dance and empowers them to move in ways they didn't think was possible."
King continues to conduct research, working with professor Paul Dennis at the University of Massachusetts through the Five College Consortium. She's helping to design a movement protocol for Huntington's patients at Tewksbury Hospital in Massachusetts. She plans to continue the research next year and further explore how movement can serve as an intervention for neurodegenerative disorders.
1