Hampshire College Supports Paris Climate Agreement as Signatory to 'We Are Still In' Campaign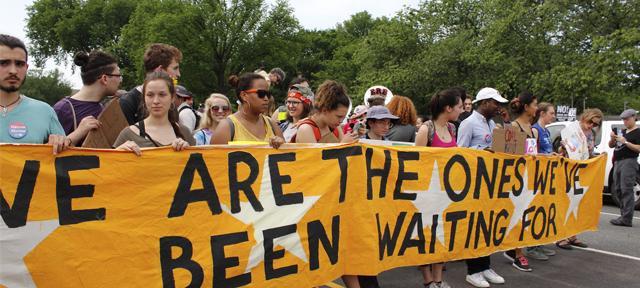 Hampshire College has signed on to the national We Are Still In campaign and pledged to continue to support climate action and reduce carbon emissions to meet the Paris Climate Agreement, joining more than 1,200 signers including mayors, governors, college leaders, businesses, and investors. To date, almost 200 colleges are part of the campaign, among them Five College Consortium partners UMass Amherst, Amherst College, and Smith College.
The We Are Still In campaign was launched to send a strong signal to the international community and the parties to the Paris Agreement about the continued commitment of the United States to ambitious action on climate change, absent leadership at the federal level. In the aggregate, the signatories are delivering concrete emissions reductions that will help meet the United States's pledge under the Paris Agreement.
The commitment continues Hampshire's bold action in support of environmental education and environmental justice. This spring, the American Institute of Architects, and subsequently National Geographic magazine, recognized the College's R.W. Kern Center as one of the Top 10 Green Buildings of 2017. Also this year, Hampshire is on course to become the first US residential college to generate 100 percent of its electricity from on-site renewable energy, as partner SolarCity has completed construction of and begun to power on 19 acres of campus solar arrays.
"The people most vulnerable to climate change are those living closest to the edge of survival, people whose lives have almost no impact on warming, but on whom it is having a disastrous effect," said Hampshire President Jonathan Lash. "As a nation and as a community, we have a moral obligation to do what we can to reduce emissions. It's a question of justice.
"Experience is essential to our approach to education," he continued. "Renewable energy represented more than 50 percent of all of the money spent in the world on electrical-power capacity last year. Who's going to design that stuff? Students like ours. That's why this makes a difference to our educational mission as well. This is the economy of the future."
Signatories for the We Are Still In campaign comprise leaders from 125 cities and nine states, 902 businesses and investors, and 183 colleges and universities. A mixture of private universities, state schools, and community colleges, both small and large, have added their institutions to the statement. In total, the undersigned businesses and investors account for a total annual revenue of $1.4 trillion and include more than 20 Fortune 500 companies, such as Apple, eBay, Gap, Google, Intel, Microsoft, and Nike, in addition to hundreds of small businesses.
The signers believe the Paris Agreement is a blueprint for job creation, stability, and global prosperity and that accelerating the nation's clean-energy transition is an opportunity to create jobs, spur innovation, promote trade, and ensure American competitiveness. They are also assuring the rest of the world that American leadership on climate change extends well beyond the federal government.
In a related area, as fossil-fuel-divestment campaigns have spread to major campuses nationwide, Hampshire has been a national leader in that area as well: Hampshire and Unity College were the first in the country to divest from fossil fuels, in the winter of 2011–12. Hampshire's divestment began in December 2011, when its board of trustees pledged to avoid investing in businesses that demonstrate substantially harmful environmental practices.
GALLERY: Hampshire students and campus community members at the People's Climate March, April 29, 2017. Photos by Rhys MacArthur.
1