Hampshire College Welcomed a Diverse Group of New and Transfer Students on Opening Day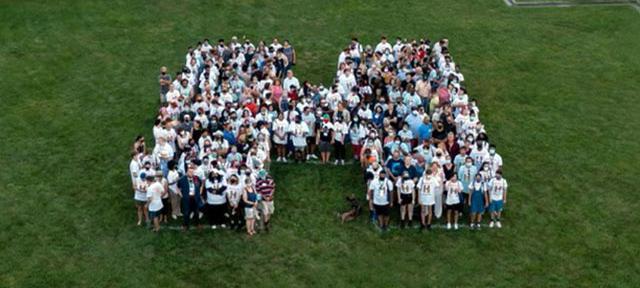 Hampshire College welcomed 201 new students to campus on August 26. During a steamy day—with the heat index reaching over 100 degrees—156 first-year and 45 transfer students were greeted by staff, including President Ed Wingenbach, who helped students move into the Dakin dorms.
The incoming class ranges in age from 16 to 40, and 39% identify as students of color. Students come from as nearby as Amherst and as far away as Hong Kong. In total, the cohort represents 33 states and Puerto Rico, as well as India, Ghana, China, Colombia, the Dominican Republic, Kazakhstan, Pakistan, Paraguay, South Africa, and Turkey. Sixty-one are first-generation college students and 16 mentioned having a family member who had attended Hampshire. They speak English, Mooré, French, Spanish, Italian, German, Hebrew, and Guarani.

The incoming class will be part of Hampshire's reinvented approach to a college education that places students at the center of the most critical issues of our time. The new curriculum is structured around urgent challenges and will allow students to apply multiple disciplines along with project management and entrepreneurial skill-building to tackle those problems in urgent need of solutions.

This year's incoming class represents an 81% increase from last year in terms of total students, with a 114% increase in first years. This strong growth in enrollment is an important step in Hampshire's five-year plan for returning to full enrollment and is a strong indicator that our new approach to liberal arts is compelling and exciting for prospective students. The growth comes after Hampshire completed a successful year of fundraising for its $60M campaign Change in the Making, raising $11.3M in new gifts and commitments for the College.

This cohort is excited to study psychology; film, video photography; creative writing; philosophy and applied ethics; politics; animation and digital art; animal behavior and cognition; biological and life sciences; game design and development; music; and environmentally studies and sustainability.
 
Fifty students are looking forward to playing sports here, including soccer, basketball, and cross country/track. Many musicians are among the bunch, playing classical bass, electric guitar, and the drums. These students have worked as assistant teachers, nurse trainees, cashiers, chicken farmers, zoo guides, puppy sitters, and more.
 
Several individuals were leaders in their high schools—presidents, vice presidents, treasurers, and captains. We have a number of math and science Olympiads and students who have done military service. Members of the cohort have won awards in film, jazz, art, theater, tae kwon do, and one even won a "Chopped Junior" competition on the Food Network—donating more than half their winnings to the Trevor Project.
 
Social justice and awareness issues, as usual, are priorities for many in our incoming class. One student organized pro-immigrant demonstrations in Milan, another taught martial arts to survivors of sexual assault, and a third created a #MeToo movement website for teenagers.
1