Hampshire College Welcomes an Increasingly Large and Diverse Incoming Class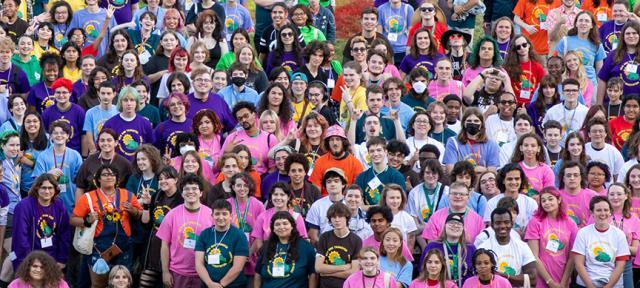 On August 31, under clear blue skies, 335 new students arrived on campus: 262 first-years and 73 transfers.
The fall 2023 class represents a 22 percent increase from last year in terms of total incoming students. For the fourth year in a row, the College has brought in a substantially bigger class. This growth is an important step in Hampshire's plan for returning to full enrollment and financial sustainability.
 
After announcing in March that the College would offer admission to all New College of Florida students in good standing and match their current cost of tuition, Hampshire is pleased to have 35 of them on campus, representing 10 percent of the fall class. Ten students come from community colleges as part of our Massachusetts Guarantee Program with our in-state system. Eleven mentioned having a family member who had attended Hampshire.
 
The class ranges in age from 16 to 69! Eighty-six of them are first-generation college students, and 30 percent identify as students of color. More than a quarter identify as nonbinary — genderfluid, androgynous, genderqueer, agender, trans, and questioning.
 
In total, this cohort represents 36 states. Six members are permanent residents of the United States; 19 are international. Six claim U.S. citizenship but come to the College from other parts of the world: Mexico, China, India, Nicaragua, and South Korea. Some two dozen new students have multiple citizenships, among them the United Kingdom, Canada, South Korea, the Netherlands, Chile, Australia, France, Jamaica, Germany, the Czech Republic, Israel, Portugal, and Mexico.
 
They speak (and some even teach) English, Spanish, Gujarati, Haitian Creole, Russian, French, Italian, Japanese, Swahili, German, Mandarin, Korean, Hebrew, Vietnamese, Hindi, Telugu, Albanian, Bulgarian, Urdu, and American Sign Language. 
 
The group's most popular academic interests are psychology; creative writing; film, video, and photography; studio arts; game design and development; theater; animal behavior and cognition; environmental studies and sustainability; music; and computer science. Some 60 students are looking forward to participating in Hampshire athletics, such as cross-country, soccer, and basketball. Several mentioned wanting to play the College's longstanding club sport, Ultimate Frisbee.
 
These students play a host of instruments: cello, guitar, piano, sitar, viola, drums/percussion, bass, flute, saxophone, piccolo, clarinet, oboe, and ukulele. One plays in a steel drum band. Some perform ballet, hip-hop, or jazz and contemporary, Latin, lyrical, tap, ballroom, and swing dance.
 
Many are involved in theater — acting, directing, stage managing, and writing for improv, plays, musicals, skits, and monologues. Others have a background in filmmaking — documentaries, short films, scriptwriting, editing, and set/lighting design.
 
One student runs a business providing services for animals, including at-home medical care. Others have worked for farms, shelters, or rescues. One shows guinea pigs at the annual 4-H fair, and another trained a cow for a dairy cattle–judging category. Still another was an animal caretaker at Radio City Music Hall!
 
They founded or cofounded all kinds of groups: for animal welfare advocacy; unions for improved school policies; chat servers that talk about ethical hacking; book clubs; film clubs that focus on stories of women, POC, and queer artists; creative writing; sustainability advocacy; and creating safe spaces for students, animals, and others.
 
One is an international medalist in figure skating; another is a nationally ranked debater. Another captains the largest all-girls team of FIRST Robotics in the world. One modeled for Coach and Tory Burch; another walked in fashion week — to protest fashion week, as part of Extinction Rebellion Youth and its work for climate justice. They've fundraised for LGBTQ+ students, Alzheimer memory-care centers, and a children's hospital.
 
They are painters, sculptors, potters, crocheters, knitters, and jewelry-makers. They've designed games, digital animation, costumes and sets, and children's books. They are storytellers, creating poetry, zines, newspapers, and short stories.
 
They're all over social media — helping congressional budget offices with outreach, running accounts for school clubs, translating and adding voiceovers for COVID-awareness videos, writing/filming/editing videos for the city of Tampa, and selling commissions of artwork on Instagram. One managed an Instagram account on intersectional feminism and social justice that was featured in Teen Vogue.
 
Many volunteer — at local libraries, YMCAs, assisted-living facilities, and schools; for Pride events, Interact/Rotary, churches, synagogues, and dozens of other organizations. They have cared for family members with severe medical conditions and special needs, translated for those who know little English, built community gardens for neighbors, prepared food at soup kitchens, and helped the elderly register to vote. 
 
And all before they arrived at Hampshire.
 
The College can't wait to see what they take on next.
 
>> Check out highlights from the day in this photo gallery.
1