Hampshire College's Engage! Conference Centers on Transformative Justice, Restorative Practices, and Antiracism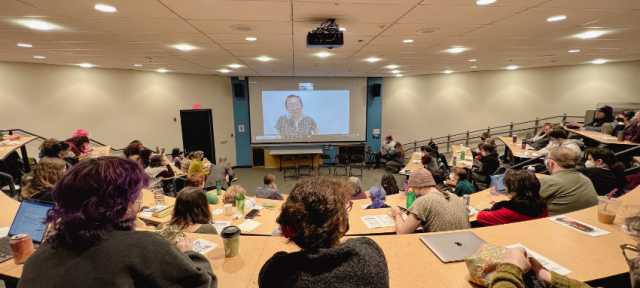 The College's 2023 conference featured a theater performance, roundtable discussions, workshops, and a keynote address from transformative justice educator and activist Mia Mingus. 
On February 21, the Hampshire College campus community gathered in Emily Dickinson Hall for Mother Tongue, a 90-minute original multilingual theater production created by the First Generation Ensemble, a group based in Springfield, Massachusetts. The performance, which opened the two-day Engage! Conference, was presented by young adults who identify as first-generation students, many of whom may be the first in their family to grow up in the United States, the first to speak English, and many other firsts. The piece was inspired by events and family stories from the Democratic Republic of the Congo, Tanzania, Bhutan, Nepal, South Sudan, and, in this country, Holyoke, and Springfield. In addition to movement and dance, it incorporated music and text in Arabic, Swahili, Nepali, and English.
Day two began with dozens of students, faculty members, and staff gathering in Franklin Patterson Hall to hear keynote speaker Mia Mingus address the topics of transformative justice (TJ), restorative practices, and antiracism through themes of accountability, courage, and collective work. "Maybe we could have a weeklong keynote," Mingus joked as she greeted the attendees via video. "There's a lot to discuss." 
Founder of SOIL: A Transformative Justice Project, Mingus has been involved in TJ work for almost two decades. She has dedicated her life to supporting and educating communities on ways to address harm, violence, and abuse.
"TJ is a racial justice practice. It's a liberatory response to the systems that disproportionally target communities of color," Mingus said. "We're not just talking about harm in a vacuum. These situations happen because of the conditions that are in place — patriarchy, colonization, fear, shame, and systems of oppression. There's no ending one without ending them all."
In response to this question from a student, "How do you move forward and maintain hope when there's so much harm in the world?" Mingus answered, "Ask yourself 'What is the work I'm doing that is moving something forward?' This work takes courage and hope, but it builds hope, too. I work with survivors every day. It gives me hope because they're turning to TJ, they're choosing TJ over revenge and punishment. They're choosing to do that because they're moving from a place of what they desire, not just a place of what they're against."
Mingus ended her address with a quote from the author and activist Alice Walker, "Look closely at the present you are constructing: it should look like the future you are dreaming."
Following the keynote, the campus community was welcomed to join external community partners. Representatives from Amherst's Community Responders for Equity, Safety & Service, Amherst College's Center for Restorative Practices, and Amherst Regional High School's Restorative Practices were invited to give presentations, participate in break-out discussions, and share resources. 
The Engage! Conference was made possible with support from the following College organizations and departments: Community Commons, the Cultural Center, the Department of Transformative Justice and Antiracism, the Queer Community Alliance Center, Spiritual Life, Hampshire College Theater, and the Office of Community Advocacy and Restorative Practices. 
1