Hampshire Professor Christina Cianfrani on the Value of Innovation and Collaboration in a Living Laboratory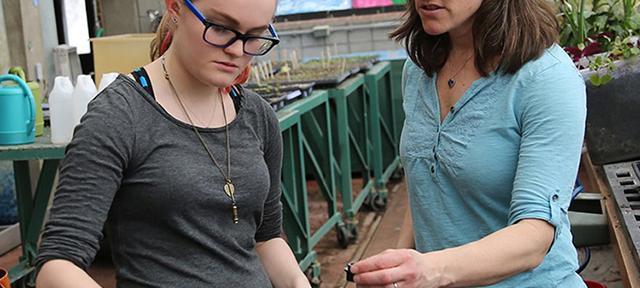 We sat down (virtually) with Director of the Teaching and Learning Initiative and Prof. of Hydrology Christina Cianfrani to learn what she finds so compelling about the Hampshire experience.
A student's educational experience at Hampshire College is unlike anywhere else — and unlike anyone else's. We sat down (virtually) with the Director of the Teaching and Learning Initiative and Professor of Hydrology Christina Cianfrani to learn a little about what she finds so compelling about the Hampshire experience.
What are some of the classes you teach? Do you have a favorite?
Some of my favorite classes include Environmental Systems: Food-Energy-Water Nexus; Sustainable Water Use/Reuse; Water in a Changing Climate; Watershed Hydrology; and Stream Ecology. I taught Environmental Systems in the fall of 2019 and 2020, and it has been a great experience. It introduces students to systems thinking and uses the campus living laboratory (farm center, solar field, and the R.W. Kern Center) to explore the local food-water-energy nexus. We discuss local systems and the challenges we face as well as how the dynamics play out at the global level.
What do you like best about teaching Hampshire students?
I love their curiosity and openness to being challenged. They take ownership of their education and think deeply about what they are doing and why.
What does being a faculty member at Hampshire allow you to do that you couldn't do elsewhere?
Hampshire encourages and values innovation and experimentation in the classroom. I have been able to develop new classes and programs at Hampshire that I would not have had the flexibility to do elsewhere. I have the ability to try things out, learn from successes and failures, and have students as partners along the way. I have amazing colleagues who think deeply about their work and who are also excited about new challenges and trying new and innovative ideas.
Have you held any other professions before or during your time at Hampshire? How have they informed your work at Hampshire?
Prior to coming to Hampshire, I worked as a research scientist at a nonprofit research organization. I spent a great deal of time in the field assessing stream systems and developed management and restoration plans. At Hampshire, I often work with students on similar projects helping them develop field skills as well as understanding how to use what they see to impact the systems around them.
Hampshire is a place where students and faculty often collaborate together. What types of collaboration have you done recently?
I often work on collaborative projects with students. In 2015, Sarah Hews [professor of mathematics], Jason Tor [professor of microbiology], and I started the Integrated Sciences First-Year Program which ran for three years (and hopefully will run again). We taught three first-year courses from different disciplines and brought our students together to complete collaborative projects centered on the greywater recycling systems of the R.W. Kern Center. Many students who started out in this program the first semester of their first year went on to complete independent research projects with me. They used what they learned in the classes to design their own projects. Two students from this program published peer-reviewed research articles from their research soon after graduation (Raymond, et al., 2018; Shillington et al., 2019). While I provide support and input to these projects, the students drive the research—it is their questions they are pursuing.
Hampshire is a place known for its #ChangeMakers. What do you think is so revolutionary/special about this place?
We value student work in the present. Students create, investigate, explore, and build meaning throughout their whole career at Hampshire. They are constantly challenged to reflect on their work and place it in a context that extends beyond the campus.
What qualities do you find shared in the most successful, interesting, and engaged Hampshire students you've known?
All students come to Hampshire with a variety of strengths. We hope you will share your strengths, identify new areas for growth, and work together with your classmates, faculty, and staff to explore the questions and challenges that interest you.
1