Hampshire's First Family and Friends Weekend in Four Years Was an Autumn Spectacular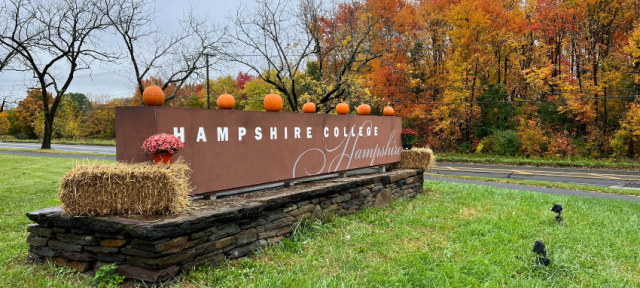 For the first time since 2018, the College was able to host an in-person event full of fun and informative activities for family and friends of current students. The weather was picture-perfect and the campus was ablaze with stunning fall foliage.
Over the weekend of October 14 through 16, Hampshire College hosted some 250 guests, most of whom were parents of first-year students. Everyone was welcome to enjoy seeing their students, dining together, and exploring on their own, but an array of activities was also offered to highlight some of our distinctive features.
Families were invited to get a taste of what their students experience academically through open classes, conversations about study abroad, a meeting about reproductive justice and campus organizing, and hearing about our new curricular structures, the Learning Collaboratives. Open houses were held at the Center for Design, the Lebrón-Wiggins-Pran Cultural Center, the library, and the Hitchcock Center for the Environment. 
President Ed Wingenbach and other members of senior administration welcomed all to a campus-wide luncheon on Saturday under the Charles and Polly Longsworth Solar Canopy. Professors and staff held nature walks to showcase student projects and College sustainability initiatives on campus and to learn about the native flora and fauna. Soccer games, Ultimate Frisbee pickup games, kite making, and a 5K run/walk were available for the sports-minded. Workshops of autumn arts and crafts with student groups also took place. 
The weekend saw many arts experiences, as well: a brand-new dance performance, the opening of a play, the screening of an alum's film, and the first big showing in the Art Gallery in many months, featuring the work of alums and faculty members side by side. Many attendees explored the Eric Carle Museum of Picture-Book Art. 
Families were impressed. Several mentioned how welcomed they felt, and many told us that their student had found "their place."