Helen Cohen's New Film Chronicles Physician's Recovery after Devastating Injury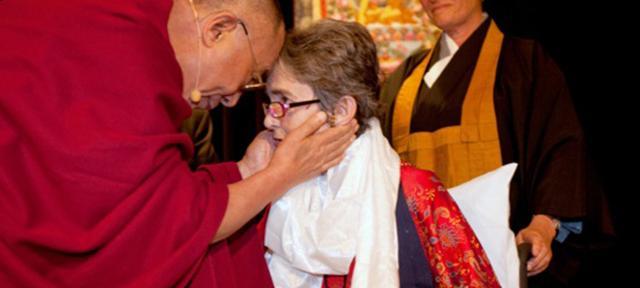 As Hampshire College alum Helen Cohen 77S began to show her new documentary at theaters and film festivals around the country, she considered how audiences would react to the emotional subject matter.
States of Grace, which screens at Amherst Cinema on Thursday, March 19, at 7:30 p.m., tells the story of Grace Dammann, an HIV/AIDS physician whose life changed forever when another driver crashed head on into her car during a routine commute across the Golden Gate Bridge. After seven weeks in a coma and 12 surgeries, she regained consciousness with her cognitive abilities intact. Damman's body, however, was left shattered. The film follows her for four years as she struggles to come to terms with her injuries and find meaning in her radically transformed life.
"Much to our delight, the film has been very moving and inspiring for so many people," says Cohen. "When they first hear about the topic, they often say it sounds devastating or depressing. There are elements of that, but ultimately it's a hopeful and inspiring film about a person's resilience and ability to rise above and navigate these challenges."
The fact that Dammann was a close friend made the process of filming States of Grace intensely impactful for Cohen and her husband and co-producer/director Mark Lipman (the film was released through their independent film company, Open Studio Productions).  The resulting documentary, she says, provides an eye-opening glimpse of how a physician copes with the role reversal faced during rehabilitation and recovery.
"We hope the film will be used in medical communities," says Cohen. "That's the next phase of outreach, as a grassroots teaching resource. It's a very Hampshire kind of thing."
Dammann and her daughter, Sabrina, will join Cohen and Lipman for a question-and-answer session following the March 19 screening. 
"We're thrilled they're going to be with us," says Cohen. "Grace graduated from Smith College, so some of her old friends will be there. Between that and my extended family of Hampshire folks, I think it will be a really wonderful event."
For more about the March 19 screening of States of Grace at Amherst Cinema, visit the Amherst Cinema website. Other screenings include New York City on March 17; Putney, VT, on March 22, and Cambridge, MA, on March 23.
1