Human Rights Leader Loretta Ross To Be Hampshire College Commencement Speaker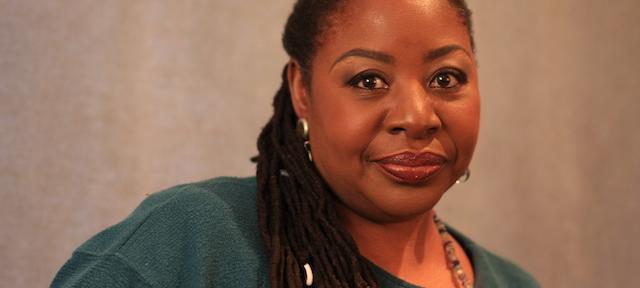 The keynote speaker at Hampshire College's 48th Commencement Ceremony will be Loretta J. Ross, for more than four decades a national leader for women's rights, human rights, and reproductive justice. Teaching as a visiting associate professor at Hampshire this year, Ross was selected by the College's 2018 graduates, voting on nominees submitted by fellow students, employees, and trustees of the College.
Ross is an author and speaker nationally and internationally on women's issues as well as an expert on hate groups, racism, and other forms of intolerance. Her leadership was first recognized when she launched the Women of Color Program for the National Organization for Women (NOW) in the 1980s, and led delegations of women of color to international conferences on women's issues and human rights. She was national codirector of the 2004 March for Women's Lives, in Washington, D.C., one of the largest protest marches in U.S. history that attracted more than a million participants.
Credited with co-creating the term "reproductive justice," Ross is cofounder and former national coordinator of the SisterSong Women of Color Reproductive Justice Collective. From 1996 to 2004, she was the founder and executive director of the National Center for Human Rights Education, located in Atlanta.
During the 1970s, she was one of the first African American women to direct a rape crisis center, acting to expose and end violence against women.
Ross's association with Hampshire began 30 years ago when she partnered with Marlene Fried, professor of philosophy and faculty director of the Civil Liberties and Public Policy (CLPP) program at Hampshire, on campaigns for women's rights and reproductive rights.
Hampshire's longest-standing social-justice program, CLPP is one of the nation's leading reproductive rights and justice organizations. Among its goals is to educate and inspire new generations of advocates, leaders, and supporters.
Ross is a frequent guest speaker at CLPP's annual conference, held at Hampshire for more than three decades and drawing more than 1,000 activists and members of the community to campus each spring. During its 36-year history, CLPP has trained more than 16,000 young activists.
While Professor Fried is on sabbatical for the academic year 2017–18, Ross is serving a one-year appointment as visiting associate professor in women's studies at Hampshire, teaching the course White Supremacy in the Age of Trump. An important aspect of the College's mission is to encourage students to contribute to justice and positive change in the world. All students are required to incorporate multiple cultural perspectives into their studies and to perform significant community-engaged work related to their concentration.
"I have a deep love and profound respect for the mission and legacy of Hampshire College," Ross said. "I'm honored to have been selected as 2018 Commencement speaker." The ceremony will take place the morning of Saturday, May 19.
Ross is a graduate of Agnes Scott College. She was awarded an honorary doctorate of civil law in 2003 from Arcadia University and an honorary doctorate from Smith College in 2013. She has served as activist-in-residence at Smith, where her papers are part of the Sophia Smith Collection of Women's History.
A mother, grandmother, and great-grandmother, Ross retired as an activist in 2012.
LORETTA ROSS AS AUTHOR
Two of Ross's books, both published in 2017, are Reproductive Justice: An Introduction, cowritten with Rickie Solinger, and Radical Reproductive Justice: Foundations, Theory, Practice, Critique.
Her forthcoming book is Calling In the Calling-Out Culture, due this year. She speaks often on that topic, most recently in lectures at the University of Michigan, UMass Amherst, and the University of Virginia's Martin Luther King, Jr. Celebration. She advocates for using a calling-in culture to build human-rights movements, describing "calling in" as accountability based on love, not punishment; that is restorative, not punitive; and that seeks to heal, not harm.
She is a contributor to Marlene Fried's anthology Abortion Rights to Reproductive Freedom: Transforming a Movement (1990) and coauthor with Fried, Jael Silliman, and Elena Gutiérrez of Undivided Rights: Women of Color Organize for Reproductive Justice (2004).
HAMPSHIRE'S PROCESS FOR CHOOSING A COMMENCEMENT SPEAKER
With a model grounded in learning through experience, Hampshire's method of choosing a commencement speaker is distinct from that of most other colleges. The process begins each fall when students, employees, and trustees are invited to submit nominees. All nominees are reviewed and validated by a commencement committee that submits finalists to the graduating class for a vote in the spring semester. Many factors determine whether a nominee accepts the College's invitation to speak: a desire to participate, the individual's schedule, a willingness to accept a modest honorarium, and a personal connection to the College, for example.
REFERENCE, LORETTA ROSS (www.LorettaRoss.com)
"Reproductive Justice in the Age of Trump," Dominion Lecture, James Madison University, September 26, 2017
"Reproductive Justice Beyond Biology," Center for American Progress, March 15, 2017
"5 Experienced Activists on What First-Time Demonstrators Need to Know," Elle Magazine, January 20, 2017
Loretta Ross on PBS/AOL Makers: Women Who Make America video series
Loretta Ross's Papers at Smith College, Sophia Smith Collection of Women's History
Reproductive Justice: An Introduction, a primer cowritten with Rickie Solinger, University of California Press, March 17, 2017
1