Introducing Assistant Professor of Animation, Creative Arts, and Visual Culture Sarah E. Jenkins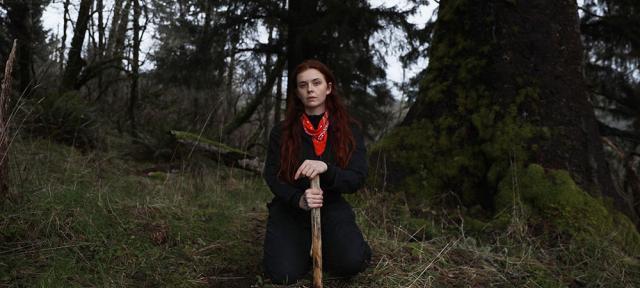 Hampshire College is pleased to welcome a substantial cohort of new professors to campus to support its growing enrollment and incoming fall class.
Among the new faculty is Assistant Professor of Animation, Creative Arts, and Visual Culture Sarah E. Jenkins. Professor Jenkins's appointment is integral to the College's transdisciplinary approach for faculty hiring that centers on bringing together different fields and disciplines in support of key areas of student inquiry. They have taught 2D hand-drawn and digital animation, stop-motion animation, compositing, digital filmmaking, VFX, advanced postproduction editing, and a multitude of hybrid courses.
 
Jenkins received a B.A. in visual art studies and women's studies from Penn State Altoona as a first-generation college student. They spent two years building a creative portfolio and working a number of jobs before going on to the School of the Museum of Fine Arts at Tufts University, where they earned an M.F.A., followed by a Bok Teaching Certificate at Harvard University.
 
What are you passionate about when it comes to this work?

I'm passionate about supporting students in their ideas and creativity. One of my favorite aspects of teaching is working with students one-on-one to help them realize their creative projects. I'm especially excited about helping artists integrate animation/moving image work into their practice, whether that's art or another area of study entirely.
 
What is your teaching experience?
 
I've taught an array of subjects to students ranging from pre-college to graduate students and postgraduate scholars. Last semester, I taught animation at three universities: Parsons School of Design, SMFA at Tufts University, and Harvard University.
 
My favorite courses to teach are transdisciplinary and push animation outside of the traditional studio context. I love working with creatives of all kinds to help them integrate animation into their artistic practices. Last year, I taught an intensive called the Outdoor Animation Studio, in which students create site-responsive stop-motion animation outside, and it was an absolute blast. I'm a stop-motion animator at heart, and I'm very excited to pursue this more at Hampshire.
 
Have you been in any other professions that had an impact on how you teach and learn?
I've wanted to be an artist and teacher since I was in elementary school. As soon as I made my way to college, I started gathering any kind of teaching experience I could find. This means that I've worked with learners of many ages, backgrounds, and experiences. I've taught art to young kids, retired folks, and everyone in between. I think these experiences have helped me to stay open, curious, and empathic in my teaching and learning.
 
Tell us about your exhibitions.

I've exhibited my work at museums and galleries, such as the Torrance Art Museum, Emerson Contemporary, the Museum of Fine Arts Boston, Wheaton College, and the Mills Gallery at the Boston Center for the Arts. My experimental animations have recently screened at the historic Brattle, Coolidge Corner, and Somerville Theaters, and at Wonzimer in Los Angeles. I've been awarded artist residencies at MacDowell, Sitka Center for Art and Ecology, and most recently the Santa Fe Art Institute. I was recently interviewed for the I Loved This Conversation podcast.
 
I'm also very excited that I have an upcoming six-month solo exhibition at the Boston Children's Museum! The exhibition, which features my film Slate Lines, opens at the end of September. My work is also included in the forthcoming book Queering Appalachia's Visual History: A Collection of Queer Appalachian Photographers, from the University of Kentucky Press, to be released in 2024.
 
What are you looking forward to at Hampshire?

So many things. For the last six years, I've been teaching at different colleges and universities each year, and I'm very much looking forward to building community at Hampshire and starting to feel grounded in a singular place. I'm excited to further develop interdisciplinary animation courses, ideas, and practices with students and colleagues. I'm also looking forward to collaborating with my new colleagues, exchanging ideas, and building friendships.
 
How do you hope to engage with our new curricular model?
For this semester, my course Hybrid Moving Images is engaging with the Media and Technology Learning Collaborative. As part of the course, we'll be discussing contemporary issues in digital media production and creating hybrid moving image works that explore concepts tied in to the LC. I also have a course in the works that will include reading, analysis, and an animated creative project responding to Octavia Butler's visionary novel, Kindred.
 
Photo: Sarah E. Jenkins working in the Cascade Head National Scenic Research Area during their residency at the Sitka Center for Art and Ecology
1