Introducing Assistant Professor of Game Design and Game Studies Jennifer Gutterman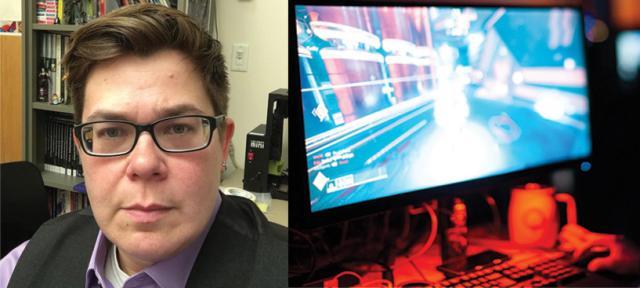 Hampshire College is pleased to welcome a substantial cohort of new professors to campus to support its growing enrollment.
Assistant Professor of Game Design and Game Studies Jennifer Gutterman previously worked as a visiting professor at Hampshire. Before that, they were an associate professor at Manchester Community College, developing and leading the game design program. They also worked as a freelance designer and adjunct instructor at Sessions College for Professional Design.
Gutterman's primary research interests are in 3D development for animation, analog and digital games, accessibility and intersectionality of world-building, and concept development for games and animation. Their appointment is integral to the College's transdisciplinary approach for faculty hiring that centers on bringing together different fields and disciplines in support of key areas of student inquiry.
Gutterman has spoken at Metatopia and PAX Unplugged for presentations such as "Queer Worldbuilding, Eat, Drink, Be Merry: Developing Cultural Touchstones for Immersive Worldbuilding," "Queer Game Design: More Than Just Representation, Latinx Game Designers, Games and Education," and "How to Pitch: Pitching Games at Every Level of Development."
"I love working at Hampshire College," Gutterman says. "I feel like the students here are ready to learn and create with an intense focus on their contribution and effect on others. That makes working with creatives and game developers that much more interesting and satisfying because they're not thinking just about what's cool at the moment, but also what will impact the long term."
In their teaching and personal work, they're most passionate about the question of accessibility in game and media design, which informs thematic choices, game mechanics where applicable, and visual design.
Gutterman is currently working on a variety of projects, from a cooperative board game set in Puerto Rico after a hurricane, to a graphic novel series titled WolfedOUT! about a zombie apocalypse breaking out on a university campus, to a textbook on game-design practices and principles with an emphasis on inclusive and accessible game design.
One of their works in progress is a monograph, Queer World Building, which examines emergent practices for developing radical new worlds that prioritize the experiences of queer people from a variety of racial and ethnic backgrounds. The book explores some conventions of world building across film, television, games, and other popular media.
"I also introduce some original strategies for imagining better worlds and more equitable societies in popular storytelling that will help future writers and designers create dynamic worlds for written, visual, linear, and interactive mediums," Gutterman says.