Introducing Assistant Professor of Native American and Indigenous Studies Noah Romero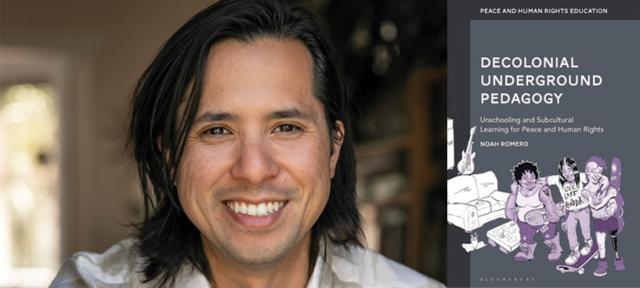 Hampshire College is pleased to welcome a substantial cohort of new professors to campus to support its growing enrollment and fall class.
Before coming to Hampshire, newly appointed Assistant Professor of Native American and Indigenous Studies Noah Romero was a postdoctoral scholar at the University of Nevada, Las Vegas, and collaborated extensively with the Center for Indigenous Peoples Education at Nueva Ecija University of Science and Technology, in the Philippines. He earned a Ph.D. in the fields of critical studies in education and Māori and Indigenous education at Waipapa Tāumata Rau (the University of Auckland) in Aotearoa (New Zealand).
 
This faculty position was created as part of the Five College Consortium's expansion of the Native American and Indigenous Studies certificate program. This growth was funded in 2021 through a Mellon Grant, one of the largest made by the Andrew W. Mellon Foundation to the consortium to date, and one of the consortium's largest grant awards from any funder in its 50-year history.
 
Romero is committed to educational justice for marginalized communities, primarily through advancing student-centered, transdisciplinary, intersectional, and decolonial approaches to teaching and learning. His appointment is integral to the College's transdisciplinary approach for faculty hiring that centers on bringing together different fields and disciplines in support of key areas of student inquiry.
What is your teaching experience?

I've taught courses devoted to the critical examination of issues in multicultural education and sexuality education while revising teacher education curriculum to center the histories, perspectives, and radical freedom dreams of Black, Indigenous, Latinx, Asian American, Pacific Islander, and queer communities.
 
I practice the liberatory teaching methods that I conceptualize and research, which hold that valuable learning occurs when people are free to exercise their autonomy, recognize their responsibility, and feel connected to others. My pedagogy aims to inspire the development of relational autonomy — the degree to which people feel empowered to take decisive actions that benefit their communities.
Tell us about your new book.

Decolonial Underground Pedagogy: Unschooling and Subcultural Learning for Peace and Human Rights, which will be published next year, examines the anti-oppressive pedagogies found in queer- and BIPOC-led punk, skateboarding, and unschooling subcultures. I found that instead of reifying colonial logics like individualism and consumerism, minority-led subcultures often cultivate community engagement, an understanding of one's responsibilities, and a shared sense of identity. These findings correlate with experiences of healing and liberation among subcultural insiders with racialized, targeted, and nondominant identities, which has significant implications for the development of anti-racist, community-responsive, and decolonial forms of education.
What are you looking forward to at Hampshire?
I look forward to bridging research and practice and working with students, staff, faculty, alumni, and community members to prepare a critical mass of scholar-activists who can nourish, sustain, and protect our communities.
How do you hope to engage with our new curricular model?
I hope to contribute to Hampshire's efforts to dismantle white supremacy through disciplinary disobedience and transformative teaching. This means embracing Hampshire's legacy of cultivating students' collective understanding of the social and historical contexts of oppression and resistance, along with an embodied understanding of their rights and responsibilities.