Kristína Moss Gunnarsdóttir Named Interim Dean of Admissions and Financial Aid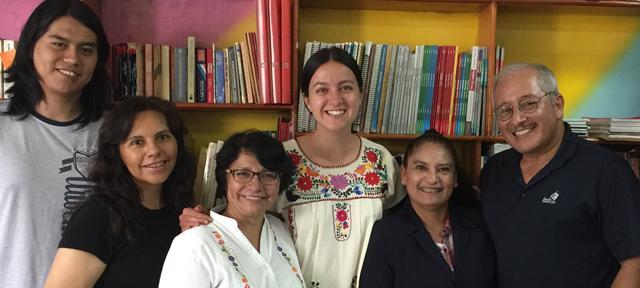 Hampshire College alum Kristína Moss Gunnarsdóttir assumed the role of interim Dean of Admissions and Financial Aid on August 17. A Fulbright scholar, Gunnarsdóttir previously served as Hampshire's Associate Director of Admissions, responsible for brand strategy and program development.
Working in Hampshire's Admissions Office from 2012-16, her responsibilities included: coordinating recruitment to the James Baldwin Scholars Program; conducting data analysis and comparative research; rebranding admissions marketing and communications materials across channels; managing major events; and growing application yield. She served as an elected staff representative to the Board of Trustees Finance Committee and the Staff Advocacy Committee, and was a founding member of Hampshire's Entrepreneurship Task Force. Gunnarsdóttir also helped to coordinate fundraising for the Undocumented Student Scholarship Fund.
In 2016 and 2017, she was invited to be a presenter at the prestigious Ashoka University Exchange Conference on Social Entrepreneurship in Higher Education.
Gunnarsdóttir has spent the past year as a Fulbright García-Robles Fellow in Mexico City. She taught English at the Escuela Normal Superior de México, a public university specializing in pedagogy training, and the Secundaria Anexa de la Escuela Normal Superior, a public middle school. She also designed and led a university course on contemporary political and cultural issues and conducted research on the political economy of education in Mexico City.
In her new role, Gunnarsdóttir said she will continue to implement the mission-driven admissions strategy implemented by the previous Dean, Meredith Twombly, explaining, "we remain committed to a process that is deeply holistic and that leverages the results from the Thrivers Study to identify students who will truly thrive in Hampshire's rigorous, deeply reflective academic program."

She added, "I see this work as an essential part of changing the national conversation around how to reimagine college admissions in a way that makes the process more accessible and student-centered."
As a Hampshire student, Gunnarsdóttir 08F created an interdisciplinary major around coursework in economics, sociology, politics, and design thinking. She completed three years of study in Spanish language and a semester abroad in Havana, where she conducted an independent research project on public space and political imagination.
Her volunteer service includes working as an English Language Learner instructor at the Jones Library in Amherst, with the aim of developing economic and social mobility for her students. Most recently she volunteered with Ashoka México, where she organized a three-day Innovation Incubator that brought out-of-state university students to the city to learn about social innovation and social change.
Hampshire College is currently undergoing an extensive search for its next president. President Jonathan Lash, scheduled to retire in 2018, and the College's senior leaders have asked Gunnarsdóttir to serve until a successive president is named and a search for a permanent Dean can be initiated. 
Gunnarsdóttir (third from right) posed with colleagues in Mexico City while serving as a Fulbright Award Fellow last year.
1