Leadership Team Update from President Wingenbach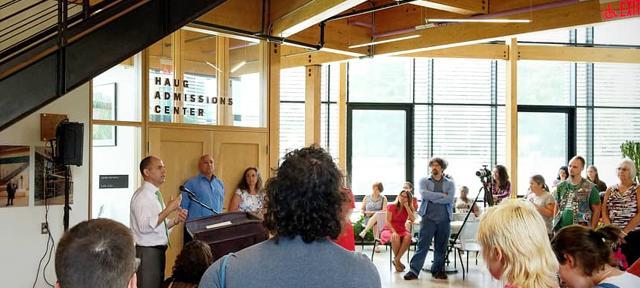 We're strengthening our leadership team. A number of longtime employees are stepping into new roles, an interim dean of admissions and financial aid is on board, and we welcome new trustees
Dear Hampshire College Community,
I arrived in Amherst and launched into my work at Hampshire this week, and I'm enjoying meeting staff and faculty across campus. I've only scratched the surface meeting new colleagues to learn about their needs, the scope of their work, and their service to the College. I'm grateful to the many employees who remain committed to the College and our students. I find your hope and dedication inspiring, and thank you for persisting through what have been, quite literally, extraordinary circumstances.
We're strengthening our leadership team this month. A number of longtime employees are stepping into new roles, and an interim dean of admissions and financial aid will bolster our recruitment of a strong 2020 class. I thank Ken Rosenthal and Eva Rueschmann, who coordinated these appointments. I'm looking forward to working closely with these and all colleagues on our important work ahead.
Djola Branner has accepted the role of vice president of student affairs, building on 12 years of experience as a faculty member, adviser, and former dean of the School for Interdisciplinary Arts. He joins Pam Tinto, now dean of students for student engagement, and Susie Mitton-Shannon, now dean of students for community development, as the leadership team overseeing student affairs.
Djola will report to me and provide leadership and strategic direction for the Division of Student Life, encompassing the Dean of Students Office and all departments responsible for student services and programs. We look to Djola and the team to lead the development of a student-life division that fosters a respectful, inclusive community in support of all students. He remains a professor of theater and will continue to teach and advise students, though at a reduced level.
Natalie Sowell has assumed the position of dean of institutional diversity and inclusion in addition to serving as dean of the School of Interdisciplinary Arts. As a member of the president's team, she'll be the senior administrator responsible for providing vision and leadership and involving our entire community in our responsibility to advance diversity, equity, access, and inclusion. A member of the Hampshire community for 15 years, Natalie will also advance our commitments to antiracism and community engagement. This work is crucial to the success of our College and our mission as a community.
Kevin Kelly is the new dean of admissions and financial aid. He will lead us in the coming weeks in rapidly reestablishing and staffing our Admissions Office, as we recruit students to apply for enrollment in 2020. He'll also help prepare us for an eventual search for a permanent dean of admissions and financial aid. Kevin brings four decades of administrative experience in enrollment management, with long tenures at Worcester Polytechnic Institute and Boston University, and, from 2005 to 2015, as director of undergraduate admissions at UMass Amherst. Over the past three years, he has held interim positions overseeing enrollment management at various Northeast colleges.
Aaron Berman 70F has agreed to serve as interim dean of advising and special assistant to the dean of faculty for retention and academic innovation. I thank Aaron for delaying his retirement, and look forward to learning from his five decades of service to Hampshire, in such roles as professor of history, former dean of faculty, and member of Hampshire's first class of students. Recently, Aaron served as cochair of the College's reaccreditation committee, leading Hampshire in a multiyear effort to a successful reaccreditation in 2018.
The College has also strengthened its leadership resources this summer by welcoming several new members to our Board of Trustees:
Elle Chan 87F, Co-founder and Executive Producer, Trademark Event Productions
Dayna Cunningham P12, Founder and Executive Director, MIT Community Innovators Lab (CoLab); Co-founder, NextShift Collaborative LLC
Josiah Erikson 97F P13 (staff trustee), Associate Director of Information Technology for Infrastructure and Communications Systems, Hampshire College
Stephan Jost 87F, Michael and Sonja Koerner Director and Chief Executive Officer, Art Gallery of Ontario
Aram Martirosyan 16F (student trustee)
Catherine Smith 71F, Commissioner (Retired), Connecticut Department of Economic and Community Development
Jordan Strauss 96F, Associate Managing Director, Duff & Phelps
Our Board has always been a working board of volunteers contributing their time and resources on behalf of Hampshire, and it currently comprises 22 members. During the fall semester, the Board will hold elections for two open positions: Alumni Trustee, and Student Trustee Elect (non-voting member).
On campus, I'm working to assess the status of staffing in all divisions and offices. We're conducting a search for a chief advancement officer and filling other positions in advancement to accelerate our major fund-raising efforts. I know our office of human resources is busy helping to fill many open positions, led by Interim Director Deana Prest, who has extended her appointment with the College. I'm grateful to her and everyone else on our hardworking HR team.
We're making substantial progress as we prepare for a new academic year. I couldn't be more excited to welcome our students back at the end of the month for what I believe will be an exceptional year.
Ed Wingenbach
President
1