Library Exhibition Interweaves Psychoanalysis, Printmaking, and Poetry by Annie G. Rogers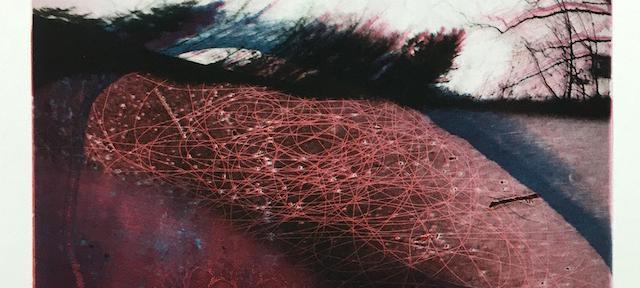 Hampshire College will celebrate the opening of an exhibition of recently acquired prints whose inspiration was a poem by Annie G. Rogers, professor of psychoanalysis and clinical psychology. The public reception will be held Wednesday, March 21, from 4:30 to 6:00 p.m. on the second floor of the Harold F. Johnson Library. Published in 2016, the portfolio of prints, titled Traces, features new work by 20 artists who responded visually to the poem.
The portfolio illustrates the creative power of literature as a stimulus for visual art, and offers an exquisite example of varied styles in sustainable printmaking. Each artist is part of Zea Mays Printmaking, in Florence, Massachusetts, a studio that is internationally recognized as one of the premier centers for green printmaking.
The event on March 21 will begin with short talks by printmakers, students, and poets and a reading of the poem Traces by Rogers. The reception follows.
Housed in a clam-shell box handcrafted by acclaimed bookbinder Sarah Creighton, the Traces portfolio also represents the College's continued contribution to the Pioneer Valley's proud culture, scholarship, and special collections in book arts. (Another recent acquisition was the Vance Studley Collection of Barry Moser prints.)
On view through June 21, all the prints in the portfolio will be on display in cases across the library's second floor and surrounding the Seydel Reading Room, which celebrates the book arts and the study of image–text relationships through the collection of late professor Robert Seydel.
See a preview of the prints and read the poem here.
For library hours and address, visit www.hampshire.edu/library.
Artists represented in the portfolio Traces are Maya Malachowski Bajak, Anne Beresford, Annie Bissett, Judith Bowerman, Meredith Broberg, Lyell Castonguay, Liz Chalfin, Daniel Chiaccio, Sally Clegg, Nancy Diessner, Anita S. Hunt, Louise Kohrman, Tekla McInerney, Larinda Meade, Frank Ozereko, Lynn Peterfreund, Joyce Silverstone, Nanette Vonnegut, Carolyn Webb, and Angela Zammarelli.
The acquisition of the portfolio, its exhibition, and the reception are made possible through generous funds from the Psychoanalytic Studies Fund, the Hampshire College Library and Gallery, and three of Hampshire's five schools: Interdisciplinary Arts; Humanities, Arts, and Cultural Studies; and Critical Social Inquiry.
About Psychoanalytic Studies
Hampshire College offers unique opportunities for undergraduates to explore psychoanalysis in relation to society and culture. Students are invited to explore psychoanalysis in its clinical traditions as well as contemporary clinical forms, and are encouraged to elaborate their psychological interests and questions in relation to philosophy, creative writing, theater, literature, and the visual arts. Students become acquainted with a complex, controversial, and changing field through coursework; build a portfolio of work across courses; and can choose to pursue a final thesis or capstone project directed by a committee in psychoanalytic studies.
Dr. Annie G. Rogers and Dr. Lourdes Mattei are the cochairs of psychoanalytic studies. Faculty who teach and advise in the field come from three of the College's interdisciplinary schools: Critical Social Inquiry (CSI); Humanities, Arts, and Cultural Studies (HACU); and Interdisciplinary Arts (IA).
1