March 20, 2019: The Next Phase of Our Work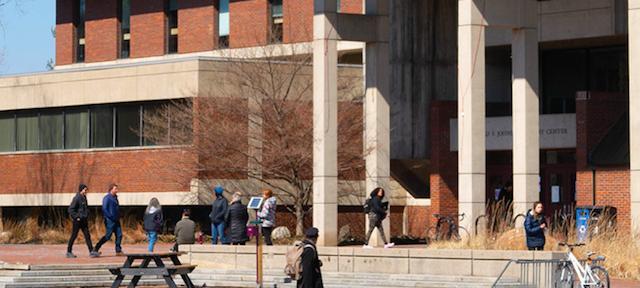 President Nelson announces the final committee to assist in examining options for securing Hampshire's future, comprising alums and parents in the fields of business and education
Dear Hampshire Community,
We've just completed the formation of the final committee that will assist in the next, critical phase of our work together—examining concrete options for securing Hampshire's future. This new group, selected for their expertise and experience primarily in the fields of business and education, will add vital off-campus perspective to our discussions and complement the strength of our on-campus Options Committee made up of faculty, staff, and students.
Our goal from the start has been to move toward an open phase of discussions with the campus this spring. This will help the Board ultimately select the path that best meets the needs of Hampshire moving forward. The two "options" committees will work closely with the Board, and I'd like to briefly share with you information about how each is constituted and how they'll work together as the Board moves toward a decision. I'm pleased that we've reached this point. And I'm so grateful to everyone for your investment in this effort.
The newly created President's Options Working Group of off-campus community stakeholders will be a sounding board for the trustees and me, conducting their deliberations independently, and a vehicle for communicating with all Hampshire constituencies. They'll convene for the first time this week to review the College's financial position and the options currently under consideration, and to discuss protocols for communicating out to the wider Hampshire community. The members are:
Ken Burns 71F, Co-Founder, Florentine Films
Dayna Cunningham P12, Executive Director, CoLab, Massachusetts Institute of Technology; Former Trustee
Gary Hirshberg 72F, Co-Founder, Former CEO, and Chief Organic Optimist, Stonyfield Farm
Diana McCargo 76F, Co-Founder and Co-Owner, Philo Ridge Farm
Ken Rosenthal P04, President (Retired), The Seeing Eye, Inc.; Hampshire Founder, Historian of the College, and Former Trustee
RJ Sakai 08F, Director, Social Innovation Program, Sequoyah School; Chair, Alumni Advisory Group
Catherine Smith 71F, Former CEO, ING U.S. Retirement Services; Commissioner (Retired), Connecticut Department of Economic and Community Development
Karla Zarate-Ramirez 92F, P16, Executive Director of Development, University of Hawai'i Foundation; Member, Alumni Advisory Group
The Campus Options Committee, which I've described in earlier letters, has been engaged for the last month in similar work. Comprised of faculty, staff, and students, its members are:
Chris Cianfrani, Associate Professor of Hydrology
Anne Downes, Senior Associate Dean of Advising; Staff Trustee
Sheila Heady, School Administrator, School of Cognitive Science
Thom Long, Five College Associate Professor of Architecture and Design
Mary McEneany, Vice President for Finance and Administration and Treasurer
Daya Mena 15F, Student Trustee
Joanna Morris, Professor of Cognitive Science
Emery Powell 16F, Student
Eva Rueschmann, Vice President for Academic Affairs and Dean of Faculty
Ashley Smith, Assistant Professor of Native American and Environmental Studies
Natalie Sowell, Dean of the School of Interdisciplinary Arts and Associate Professor of Theatre
Both the on-campus Options Committee and President's Options Working Group will be instrumental in providing guidance and input to the Board on the full range of options under consideration. All work will be guided by the following principles in our collective effort to bring about a sustainable future for Hampshire:
Enhance our reputation
Advance our educational mission
Keep the interests of students, staff, and faculty at the forefront
Commit to our longstanding values of inclusion, equity, and justice
Recognize the potential for long-term positive impact
Have the fortitude to make difficult decisions
Keep the interests of the greater community in our planning, including the Town of Amherst and the rest of the Pioneer Valley
Thank you. I look forward to our continued conversations as this work gets under way.
With appreciation,
Miriam Nelson
President
1